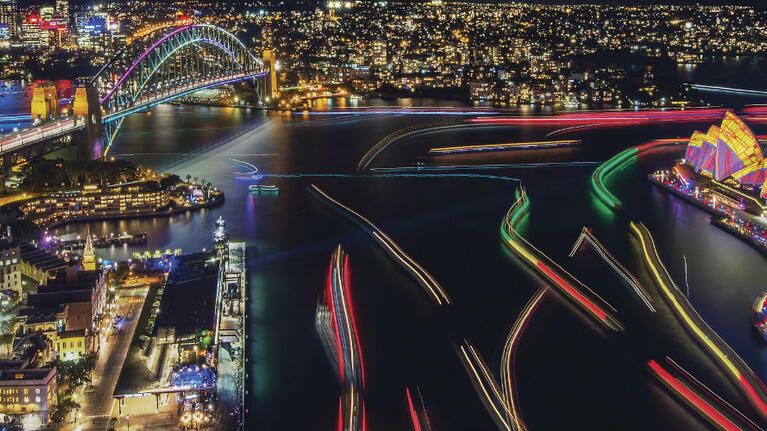 Circular Quay, The Rocks, Royal Botanic Garden, Barangaroo, Darling Harbour and Luna Park
to
Lights on

18:00

Lights off

23:00
Important event information
Celebrating its 10th anniversary Vivid Sydney returns to light up the Sydney CBD from 6pm to 11pm for 23 consecutive nights.
With extensive road closures and special event clearway parking restrictions in place in the Sydney CBD, The Rocks and Circular Quay each night the best way to get to the festival is to leave the car at home and catch public transport.
All the precincts are within close distance of major transport hubs and over 6,000 extra services will run to help crowds get around.
Vivid Sydney in the city attracts large crowds each year, especially on Friday nights and weekends, so if you want to avoid the peak crowds or are travelling with families consider visiting on a weeknight instead.
There are hundreds of installations throughout the city so you won't get to see it all in one night. Plan your Vivid Sydney experience over a few nights instead.
Vivid Sydney will also light up Sydney's iconic Taronga Zoo and Chatswood CBD, for information on transport to these precincts, visit the event pages:
Stay connected
Stay connected and get real-time updates on transport services, event precinct capacities and road closures online: