Frenchs Forest bus changes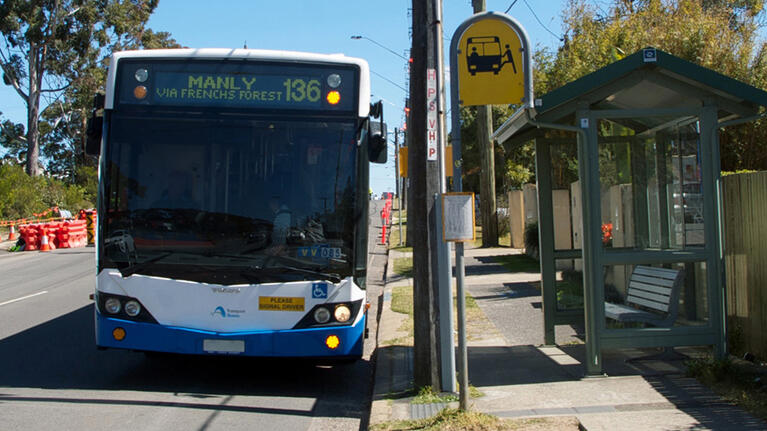 From Sunday 8 October some bus routes around Frenchs Forest will change while work continues on upgrading the roads around the new Northern Beaches Hospital.
Frenchs Forest Road will become one-way westbound from Patanga Road to Forest Way. Eastbound regular and school bus services will divert and use alternative stops located on Warringah Road. Delays are expected, please plan ahead and allow for extra travel time.
Download map of regular bus diversions (pdf 261KB)
Download map of school bus diversions (pdf 279KB)
Use the Trip Planner to check the latest travel times or download a real-time transport app to help plan your travel.
Affected regular routes
136

-

Chatswood to Manly

169

-

City Wynyard / Frenchs Forest to Manly via Narraweena

173

-

Milsons Point to Narraweena

E69

-

City Wynyard to Manly

280

-

Chatswood to Warringah Mall

L60

-

Chatswood to Mona Vale
School services
144 - Covenant Christian School to Oxford Falls Grammar School (AM)
230 - Covenant Christian School to Oxford Falls Grammar School (PM)
621n - The Forest HS to Warringah Mall (PM)
661n - Rabett St & Forest Way to Augustine Brookvale (AM)
625n - Mackellar Girls High to Skyline Shops (PM)
660n - Frenchs Forest to St Augustine (AM)
695n - Frenchs Forest to St Pauls (AM)
702n - Frenchs Forest to St Pauls (AM)
746n - Rabett St & Forest Way to Manly HS (AM)
710n - Broughton St, Milsons Pt to Dee Why (PM)
720n - Frenchs Forest PS to Brookvale (PM)
723n - Manly Wharf to Oxford Falls Grammar School (AM)
724n - Oxford Falls Grammar School to Seaforth Shops (PM)
730n - Seaforth to NBSC Manly Campus (AM)
739n - Forest HS to Seaforth (PM)
778n - Forest HS to Pittwater House (PM)
Affected stops
Frenchs Forest Road opp the Forest High School (Stop ID: 208698)
Frenchs Forest Road near Bantry Bay Road (Stop ID: 208636)
Frenchs Forest Road  Skyline Place (Stop ID: 208639)
Frenchs Forest Road  at Romford Road(Stop ID: 208640)
Frenchs Forest Road  at Inverness Avenue (Stop ID: 208641)
Wakehurst Parkway before Warringah Riad (Stop ID: 208631)