Bundanoon and Marulan celebrate 150 years of rail through the Southern Highlands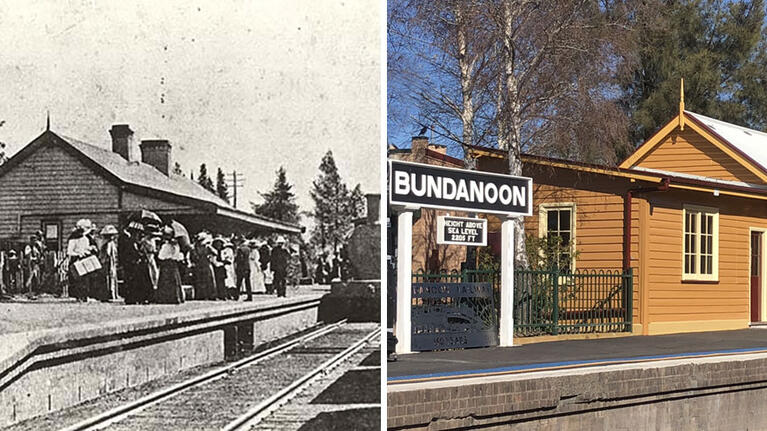 On Sunday 5 August, Sydney Trains and NSW TrainLink are celebrating 150 years since the opening of the railway line from Sutton Forest (now Moss Vale) to Bundanoon and Marulan.
Join in the celebrations
To celebrate this historic milestone, festivities, displays, food, entertainment and activities around Bundanoon and Marulan Stations will run throughout the day, including:
Bundanoon Station
The official launch of the Bundanoon Station restoration by Sydney Trains commences at 10.30am at the station entrance in Railway Parade - join with the Lieutenant-Governor of NSW in this special occasion
To catch a first glimpse inside Bundanoon's historic station since 2006, interact with signal box equipment and see the restored station rooms and old goods shed - open day guided tours will run from 11.00am to 2.30pm
There will also be displays of historic railway artefacts, historic photographs and vintage cars, the Bundanoon Makers Market and a sausage sizzle - all from 9.30am.
Marulan Station
12.15pm at Marulan Station the 150 years celebration continues with the arrival of the Lieutenant-Governor of NSW among other dignitaries and representatives of local industries and community organisations for an official tree planting and plaque unveiling
The Marulan Memorial Hall will also host displays of railway history from the towns of Penrose, Wingello, Tallong and Marulan.
Dates and times
Events at Bundanoon and Marulan - Sunday 5 August 2018, 9.30am to 2.30pm.
Event trains linking Bundanoon, Marulan and the southern villages will run on the day:
Bundanoon to Marulan - 07:43, 10:13, 11:43, 13:43
Marulan to Bundanoon - 08:54, 11:35, 13:23, 15:28
You can use your Opal card on the event trains.
Location
Bundanoon Station Platform 2 - Railway Avenue, Bundanoon
Marulan Station Carpark - George Street, Marulan
Further information
The busy village environment that has built up around Bundanoon Station today demonstrates that the railway station remains at the heart of the community. The station itself is a rare, intact State heritage listed survivor from another era. The station has remained largely unaltered. It was this unique and untouched heritage context that led Sydney Trains, the local community, archaeologists, heritage specialists and skilled trades to rejuvenate the station, and restore its historic features.
Check out Celebrating 150 years of the fascinating Bundanoon Station on the Transport for NSW official blog for more history and conservation project highlights.
Plan your trip to Bundanoon and Marulan using the Trip Planner.