More pop-up cycleways for Sydney and regional NSW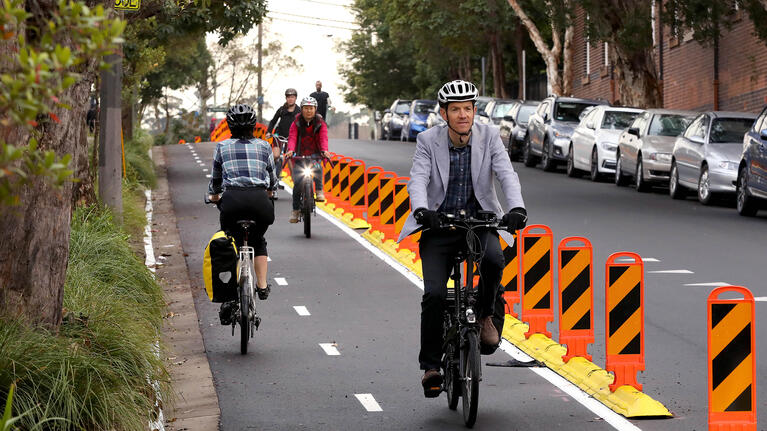 Transport for NSW has been working with councils to make it easier and safer to ride your bike during the COVID-19 pandemic. Plans have been announced for pop-up cycleways across Sydney's Eastern Suburbs, North Shore, and Inner West.
These are in addition to the work on pop-up cycleways in Newcastle, Wollongong, Goulburn, Batemans Bay, and Nowra, and the six pop-up cycleways within the City of Sydney.
As part of the COVIDSafe Transport Plan, Transport for NSW has been rapidly putting in measures across the roads and public transport network to protect customers and staff from the pandemic. The new cycleways will help make it safer and easier for you to ride your bike for short journeys, enabling physical distancing on public transport and also help reduce road congestion.
Transport for NSW will be working with councils to finalise plans for new pop-up cycleways across Greater Sydney. Sydney communities will be notified at least four weeks prior to any construction commencing or changes to the local road environment.
Working with local residents and businesses to address any concerns is a priority as Transport for NSW and councils navigate the planning of the new cycleways.
This includes providing the right level of local access such as parking or loading zones for residents and businesses, ensuring access to properties is always available and enabling deliveries and short-term visitors where possible.
Transport for NSW will continue to update the community on these temporary measures and will consult with them prior to any decisions being made on whether the cycleways will remain following the pandemic.
Local Government Area
Location
North Sydney Council
Randwick City Council
Inner West Council
Woollahra Municipal / Waverley Councils
City of Newcastle Council

Honeysuckle Drive, Newcastle

Shoalhaven City Council
Eurobodalla Shire Council

Beach Road, Bateman's Bay (from Batehaven to Surf Beach)

Goulburn Mulwaree Council

Hume Street and Finlay Road, Goulburn

Wollongong City Council

Smith Street, Wollongong

Kembla Street, Wollongong
Crown Street, Wollongong
Stewart Street, Wollongong
Choose the cycling option in the Trip Planner for help planning your riding route.