Sydney's new light rail opens 14 December from Circular Quay to Randwick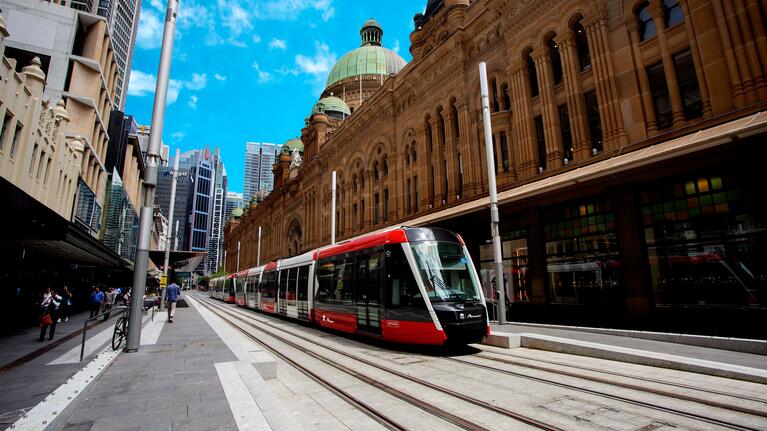 Introducing Sydney's new light rail, a great way to travel between the city and south eastern suburbs.
The L2 Randwick Line includes 14 stops between Circular Quay and Randwick, running through the CBD, Central, Surry Hills, Moore Park, UNSW and ending at the Randwick Hospitals Campus on High Street, Randwick.
High frequency services mean you can just turn up and go and additional services will run from Central Chalmers Street Stop for major events to Moore Park and Royal Randwick Racecourse.
In March 2020 the L3 Kingsford Line will open, adding five more stops between Moore Park and Kingsford at Nine Ways.
Together with the existing L1 Dulwich Hill Line, these new lines form an integrated 24.7 kilometre network of high capacity, energy efficient light rail services.
Find out how you can be one of the first to ride Sydney's new light rail
No need for timetables – just turn up and go
Services start from 5am and end at 1am each day, and run more frequently on weekdays between 7am and 7pm with services every 4 to 8 minutes between Circular Quay and Central, and every 8 to 12 minutes between Central and Randwick.
Greater capacity to keep more people moving
High capacity services get you to key locations efficiently and reliably, easing road congestion. At 67-metres long, the light rail can carry up to 450 people at once – that's up to nine standard bus loads of commuters.
Using the new light rail
From accessing the platforms, to paying on light rail and connecting with other modes of transport, here's a quick guide to help you use the new service.
Safety on the system
We want to help keep you safe on and around the new light rail with these handy tips.
Geared towards sustainability
Engineered to minimise environmental impact, the new energy efficient electric-powered light rail produces minimal noise and no vehicle exhaust emissions.
Accessible and comfortable
The new light rail is fully accessible. Each air-conditioned carriage has platform level floors, double doors, and dedicated spaces for wheelchairs and prams.
Getting to and from light rail stops
Whether you walk, cycle or catch a bus or train, connecting to new light rail services is easy.
Walking
New pedestrian paths, signalised crossings and a pedestrian footbridge at Moore Park make accessing new stops easy.
Bus
Local bus services will connect you to light rail stops along the alignment, or within close walking distance, connecting you with nearby suburbs.
Train
Connect to the light rail at Central, Circular Quay, Town Hall and Wynyard train stations.
Cycling
You can ride to the light rail with many stops providing cycling storage facilities.