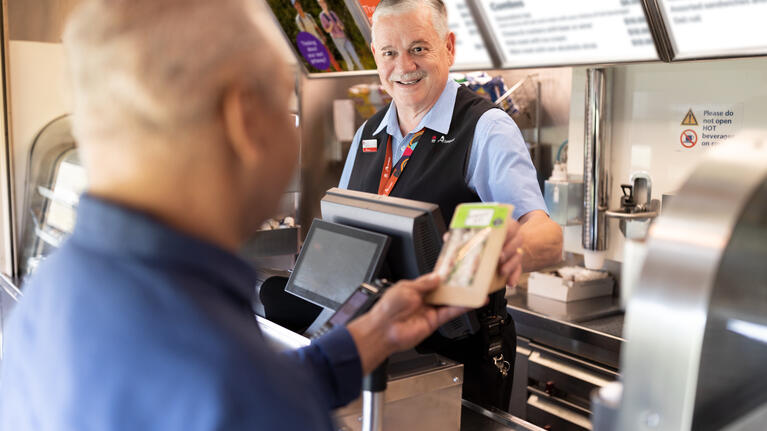 New Spring menu
Our new spring menu will launch on 28 September 2022.
New items include:
Poke salad bowls available with both chicken and vegetarian options
Lemon myrtle & coconut slice from Indigenous supplier Dreamtime Tuka based in Dubbo
A mid strength beer, Garden Ale from regional supplier Stone & Wood based in Byron Bay
To celebrate Curryfest in Woolgoolga we are also currently offering a Lightly spiced Biryani with lentils and chickpeas which is both vegan and gluten free
This will be offered onboard North Coast services only until 24 September.
Please note
We have made small amendments to our Buffet service in line with advice from NSW Health in response to COVID-19.
The changes include:
Not all refreshment items may be available as shown on the menu
We are currently unable to accept reusable cups
Water fountains are currently unavailable on Regional trains, please bring water or purchase from the buffet
Payment is preferred by credit card or EFTPOS where possible
Catering items may change due to availability.
Most NSW TrainLink Regional train services include a buffet car serving drinks, snacks and hot and cold meals.
Food and drink (except for water) is not permitted on coach services. For coach trips of 4 or more hours, refreshment stops are included.
Straws are not available on NSW TrainLink services. Please bring your own reusable straw, if you require one.
There is a buffet car on most NSW TrainLink Regional train services that offer a range of vegetarian and gluten-free snacks and meals. We suggest placing an order for speciality items in the buffet car as soon as you board to avoid disappointment.
You can bring your own food and non-alcoholic beverages on board train services only. We recommend guests who suffer from allergies (such as peanut allergies) bring their own snacks or meals as we are unable to guarantee that our meals are completely allergen free.
Perishable items including meat, seafood, fruit and vegetables are not permitted as checked luggage on any NSW TrainLink Regional service.
On board staff are available to serve food and drink to any customer who is unable to leave their seat.
You can pay with cash, debit cards and credit cards. EFTPOS mobile reception can be intermittent on selected routes, so to avoid disappointment it's advisable to carry some cash for purchases.
Buffet menu
NSW TrainLink is proud to support a range of local suppliers to source the freshest produce for our on-board menu. Some of these suppliers include Early Rise Bakery, Dubbo, The Real Juice Company from Griffith and 4 Pines brewery from Manly, Sydney.
Some menu items may be replaced by similar products if not available. Prices are subject to change.
Book a seat on NSW TrainLink Regional services