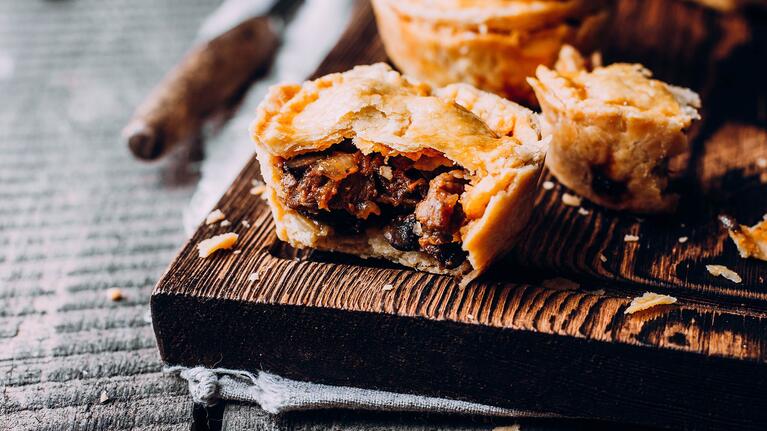 Book a seat on NSW TrainLink Regional services
There is a buffet car serving food, drinks and alcoholic beverages on all NSW TrainLink train services. While you can pay with debit and credit cards, EFTPOS mobile reception can be patchy, so to avoid disappointment it's advisable to carry some cash for purchases.
Alcohol is served responsibly in the buffet car to customers 18 years and over. Customers will be asked to take beverages back to their seat to enjoy. Alcohol is served from midday until 11pm only. There is a maximum of two alcoholic drinks per customer each hour. No BYO alcohol is to be consumed on board and fines apply.
The food and drinks listed on the following menu may vary to what is available on board. Some menu items may be replaced by similar products and prices are subject to change.
Hot meals use regional produce including chicken from Tamworth, pork in sausages from Casino, lamb from the Riverina and beef from Griffith and Toowoomba.
Meal information: v = vegetarian, ve = vegan, gf = gluten free. Main meals are served with a non-gluten free bread roll and extra condiments are charged at $0.50.
Please note:
We offer a range of vegetarian, vegan and gluten-free snacks and meals for purchase from our on-board menu. If these are unsuitable, guests are welcome to bring their own food and non-alcoholic beverages on-board.
We recommend guests who suffer from allergies (such as peanut allergies) bring their own snacks or meals as we are unable to guarantee that our meals are completely allergen free.
Perishable items including meat, seafood, fruit and vegetables are not allowed to be brought on board NSW TrainLink Regional train and coach services.