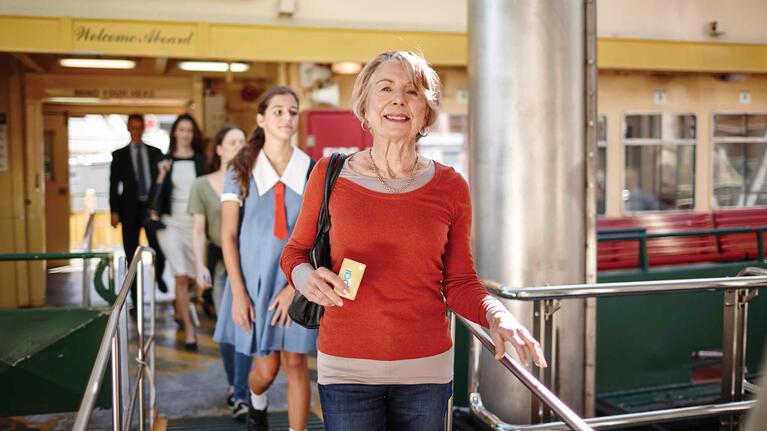 If you have a Seniors Card issued by any Australian state or territory, you are entitled to concession fares on public transport in NSW.
You must carry your Seniors Card when travelling on a concession fare as proof of entitlement or you may be fined.
Concessions are generally not available on private ferries, event shuttle buses, chartered buses and Great Southern Rail services.
Some Seniors Cards are not accepted.
Ticket options
When travelling within the Opal network, eligible seniors are entitled to use a Gold Senior/ Pensioner Opal card. You'll need your proof of entitlement card to apply and must carry it with you at all times.
If you do not have your proof of entitlement card, you are required to pay for and travel with an Adult fare, or you may be fined for travelling on an invalid ticket.
How to get your Gold Opal card
NSW/ACT Seniors: NSW and ACT Seniors Card holders can apply on the Opal website.
Interstate Seniors: Interstate Seniors Card holders (except from the ACT) can apply for new or replacement Gold Opal cards by completing the Interstate Seniors application form (pdf 270KB). The application will need to be submitted at least 3-4 weeks before travelling to NSW.
Using an Opal card provides you with a range of travel benefits.
Find out more about Opal terms of use.
Sydney Airport train station access fee
Eligible seniors pay the Concession Sydney Airport station access fee when travelling with a Gold Opal card to or from the airport train stations.
NSW TrainLink
Eligible seniors are entitled to $2.50 all day travel with the Country Pensioner Excursion ticket when booking on NSW TrainLink Regional services within NSW.
When travelling interstate on NSW TrainLink Regional services (entitlements vary from state to state).
Privately-operated local buses
Eligible seniors are entitled to $2.50 all day travel with the Regional Excursion Daily ticket on local buses
Some privately owned and operated services may offer other concessions at their own discretion. Check with local transport operators before you travel.