View your card details
Top up, see your travel and payment history
loading

If you haven't registered your Opal card, you can top up online and access your recent travel and payment history.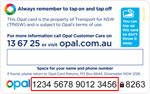 You'll need to enter the 16 digit number and 4 digit security code on the back of your Opal card.
With an unregistered card you can only see the last 10 activities for that card, including trips, top-ups and reversals.
If you already have an Opal account, you can register and link a new Opal card by logging into your account or via the Opal Travel app. Otherwise, you can create a new Opal account online.
Benefits of registering your Opal card
A registered Opal card has your personal information linked to the card. This means you can:
Protect your balance - You can block your card if it becomes lost or stolen, so no one else can use your funds.
Transfer the balance to another Opal card - If your Opal card becomes lost, damaged or stolen, you can transfer the balance to another Opal card.
Set up auto top up - Registered cards can be set to automatically top up when your balance becomes low, so you don't need to remember to top up manually.
View and download your activity statement - See up to 18 months of Opal card activity to help you keep track of how much you spend. You can also download your activity statement to share with a third party, like your employer or accountant.
Set SMS or email alerts - Choose to have notifications sent via SMS or email if your balance gets low or when an auto-top-up has been applied.
Link multiple Opal cards - Multiple Opal cards can be linked to one account to keep track of them all in one place so you can view and manage all the Opal cards for your family or household.
Your Opal activity is a record of the transactions made with your Opal card. It shows your trips, journeys, top ups and adjustments, so you can keep track of your spend, check you paid the correct fare and use the statement for tracking business travel for tax purposes.
It can take up to 48 hours to show all activities and balance on the website activity statement. 
If you haven't tapped on or off, the origin or destination will be 'Unknown' and you will be charged the maximum 'default' fare.
You can recognise any Opal transactions, such as card top ups, on your bank statement if 'TfNSW' and 'Opal' is listed in the transaction description.