If you have an Assistance Animal Permit, your nominated assistance animal can travel with you free of charge. You pay your normal fare depending on your concession status.
The permit is valid for travel on all trains, buses, ferries, light rail, taxis, private bus and private ferry services. To find out if other services recognise the permit, contact local transport operators.
You must carry your Assistance Animal Permit with you at all times as proof of entitlement.
For a certified guide dog, hearing dog, police dog or assistance animal/police dog in training, an Assistance Animal Permit is not mandatory.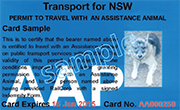 Your animal is eligible if you have:
Medical evidence you have a disability as defined by the Disability Discrimination Act 1992 (Cwth) or the Anti-Discrimination Act 1977 (NSW) and that the assistance animal alleviates the effects of the disability
documentation that your assistance animal has received appropriate training from an accredited training organisation.
Your Assistance Animal Permit has a photo of the nominated assistance animal on it and cannot be used for another animal.
Permits are issued for free and valid for 12 months.
For a replacement Assistance Animal permit, either call 131 500 or download the Assistance Animal Permit application form (pdf 187KB).
Send the completed form to the Transport Concessions Office. A replacement fee may apply.
The Assistance Animal Permit application form is also available from:
Transport Concessions Office
NSW Branch of Vision Australia
Guide Dogs Australia