Luggage on NSW TrainLink services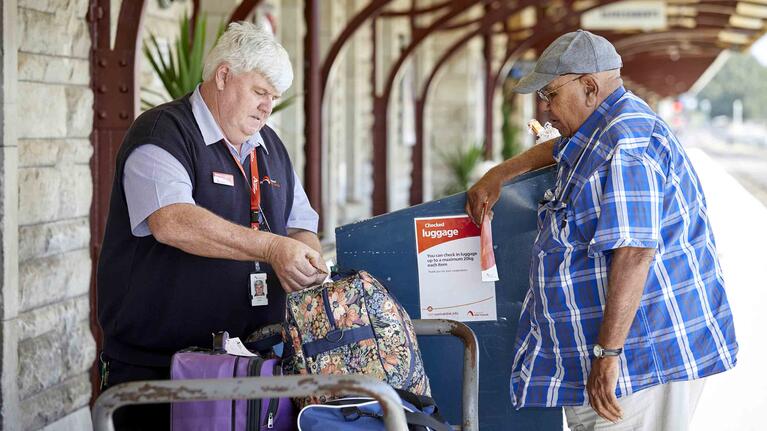 You are allowed a total of three pieces of luggage per seat booked on trains and on coaches including, one item of hand luggage (maximum 5kg) and two other items checked/unchecked into the luggage compartment or stowed at the end of your carriage (maximum 20kg per luggage item). Luggage which exceeds these limits will not be accepted or allowed on board.
Luggage check in closes 30 minutes before the scheduled departure. Luggage should be checked in at least 30 minutes before departure at all attended NSW TrainLink stations. You can check in your luggage anytime on the day once the station is open.
Baby strollers, prams and capsules, along with golf clubs and collapsible wheelchairs are classed as hand luggage.
It is recommended you invest in travel insurance to cover your belongings during your trip.
Bag inspections
Passengers may be required to present and open checked and non-checked baggage for inspection prior to travel on NSW TrainLink services. NSW TrainLink reserves the right to refuse travel to any passengers who does not comply with such a request. NSW TrainLink will provide a refund of the proposed trip.
Luggage storage at Central Station
There are storage services available at Central Station for NSW TrainLink Regional customers at the luggage collection and drop-off counter on Platform 1.
Short term storage is available for NSW TrainLink customers with a ticket for travel that day. There is a charge of $4.40 for each item stored. No luggage will be accepted for storage overnight.
SmarteCarte also provide long or short-term secure baggage storage. There are charges for luggage storage. They also have a range of luggage  accessories and provide bag wrapping services. For more information, visit the Baggage Storage website.
Location: Grand Concourse at Central Station in Sydney - opposite Platform 1.
Operating hours: 6am to 10pm daily.
What you cannot bring
For safety reasons, there are items that must not be included in checked or carry-on luggage.
Do not bring any of the following:
damaged or insufficiently secured and protected items
household items and appliances
plants and/or plant matter
perishable items including meat, seafood, fruit and vegetables
unaccompanied luggage items
motor vehicles or motorbikes.
Additionally, the following are classified as dangerous goods and are banned:
compressed gases - flammable, non-inflammable and poisonous
corrosives - acids, alkalis, mercury and wet cell batteries
explosives - munitions, fireworks and flares
flammable liquids and solids - lighter fuel, matches, paints, thinners and fire-lighters
oxidising materials - bleaching powder and peroxides
poisons and infectious substances - insecticides, weed killers and live virus materials
firearms, spear guns, crossbows and knives
radioactive materials.
Excess baggage
There is no provision for excess luggage on any NSW TrainLink trains or coaches. If your luggage exceeds the maximum allowance of three items and items that weigh over 20kg, it will not be accepted or allowed on board.