Travelling with animals and pets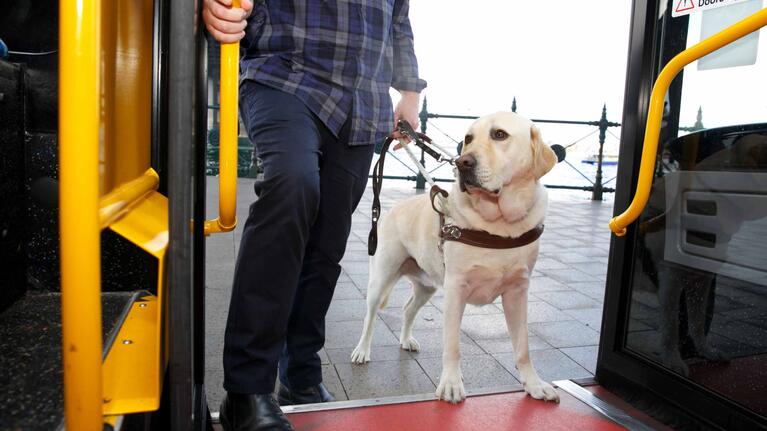 Approved assistance animals are allowed on all public transport in NSW.
Pet animals may be allowed to travel on buses, ferries, light rail and in a taxi if it is confined in a box, basket or other container as required by the NSW Passenger Transport Act and regulations. However, permission is still required by staff or the driver.
Travelling with an assistance animal
You can travel with your approved animal valid in NSW on all trains, buses, ferries, light rail and taxis. This includes:
Assistance animals trained to assist passengers with a disability
Assistance animals in training
Guide dogs and hearing dogs with accreditation
Police and security dogs.
Guide, hearing, police and security dogs do not require a permit.
However for other assistance animals, you must carry an Assistance Animal Permit with you as proof of entitlement. It must have the photo of the nominated assistance animal on it and cannot be used for another animal.
When you travel with an assistance animal you need to ensure that:
You have a valid ticket or pass for your trip, your assistance animal travels free
You are responsible for the conduct, care, feeding and toileting of your animal
The animal must be under the control of the registered handler at all times
You use the wide gate to enter and exit at larger gated ferry terminals and stations
Your guide or hearing dog wears a harness or medallion of registration.
Interstate and internationally certified guide and hearing dogs are recognised. All other animals must be certified as a trained assistance animal.
You need to apply for or renew your assistance animal permit with the Transport Concessions Office.
On NSW TrainLink Regional services you must book a seat for your assistance animal. Your assistance animal will sit on the floor next to you, booking an additional seat for your assistance animal ensures that the seat next to you remains vacant.
Travelling with pets
Check which modes of transport will allow pets before you travel.
Transport
Pets allowed
Train
No pets on stations and trains
Bus
Yes, with permission from the driver
Coach
No pets at coach stops or on coaches
Ferry
Yes, with permission from the crew
Light rail
Yes, with permission from light rail staff
Taxis
Yes, if the vehicle is suitable and with permission from the driver
When boarding public transport with a pet or other animal, please be aware that:
The animal must be restrained in a suitable box, basket or other container at all times while on board.
The driver or crew may refuse to allow the animal if the service is reaching capacity.
Animals that are not clean, appear vicious or likely to annoy, threaten or inconvenience other customers will not be allowed.
Animals are not allowed on seats and must not obstruct passageways.
You should keep your animal away from other travelling animals to ensure the safety and comfort of other customers and pets
On ferries, animals should not travel in the enclosed ferry cabin areas, unless the vessel does not have an outdoor area or it is unavailable.