Opal Travel
Transport for NSW digital tools
Trip Planning
Accessibility
Opal fares
Regional services
Driving
Opal Travel is the only official Transport for NSW Opal app for managing your travel across the Opal network in Sydney and surrounds.
With Opal Travel app, you can:
view your Opal or contactless card travel history
set Opal card auto top ups
plan your travel  
check travel alerts 
Download Opal Travel
The app is free to download from Apple's App Store or Google's Play Store.
Check the Opal Travel App terms of use (pdf 164KB).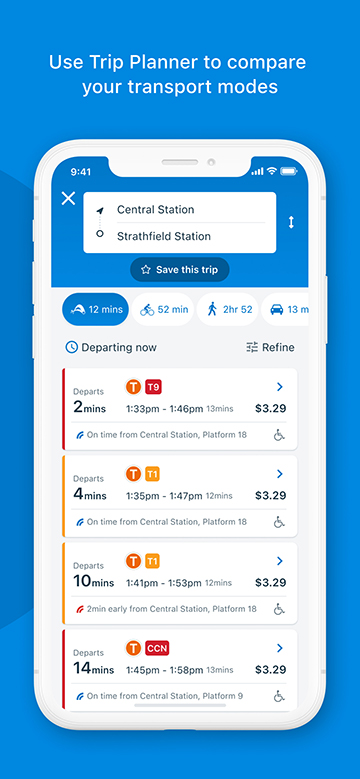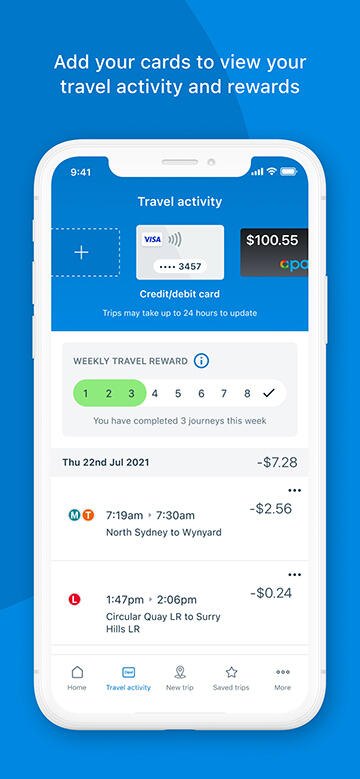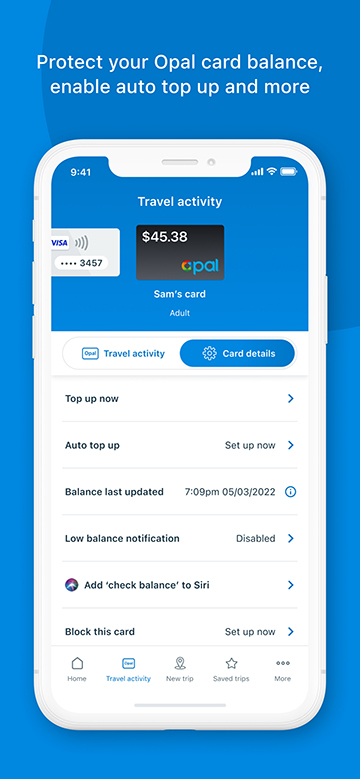 Opal Travel features
Main features:
Plan trips and see fare estimates
View and top up your Opal card balance (allow up to one hour for your card balance to update.) 
View contactless payment activity
Register your Opal card or credit/debit card you use to catch public transport
Check travel history and transactions for both Opal and credit/debit card tap ons
Set up automatic balance top-ups for your Opal card
Report lost or stolen cards and transfer the balance to other eligible cards linked to your account
See progress to your Weekly Travel Reward journey count
Scan your Opal card with your device to check tap on status, account balance and weekly travel rewards
Find nearby Opal retailers
Alerts and notifications Opal Travel can send to you:
Stop alerts: When you plan a trip, alerts can notify you when you get close to your stop
Personalised travel disruption alerts: These will let you know if there are any problems with your regular saved trips
Travel notifications: These will tell you how busy your train or metro service may be
(Note: If you use an iPhone, you must enable push notifications.)
Learn how to set up travel notifications
Accessibility features
The Opal Travel App is designed to be accessible for everyone, including people with disabilities. Some of the accessibility features include:
Accessibility information: The app can identify which services are wheelchair accessible, making it easier for people with mobility impairments to get around
TalkBack on Android and VoiceOver on iOS: The Opal Travel App is compatible with both TalkBack on Android and VoiceOver on iOS, making it possible for people with visual impairments to navigate the app with ease.
Feedback
We'd like to hear your feedback about the Opal Travel app. You can contact us via the app by selecting Menu > Send Feedback > Opal Travel App, or by filling in the website App feedback form.
By Transport for NSW