Tertiary students
Tertiary students

Ticket options
In the Opal network, if you are an eligible tertiary students you are entitled to travel with a Concession Opal card.
You cannot travel with a Child/Youth Opal card or Child/Youth Opal single tickets.
Proof of entitlement cards for travel inside the Opal network
You must carry your proof of entitlement (either a valid approved student ID card or a Transport Concession Entitlement Card) and your Opal Concession card when you travel within the Opal network.


How to get your Concession Opal card
Before you apply you need to:
Once you have an approved proof of entitlement card, you can apply for a Concession Opal card on the Opal website or by calling 13 67 25 (13 OPAL).
For a replacement Concession Opal card: Call 13 67 25 (13 OPAL). A replacement fee may apply.
Using an Opal card provides you with a range of travel benefits.
Find out more about Opal terms of use.
Sydney Airport train station access fee
Eligible tertiary students pay the Concession Sydney Airport station access fee when travelling with a Concession Opal card to or from the airport train stations.
Transport Concession Entitlement Card
You are eligible if you are a full-time student attending an approved institution.
Apply on the Transport Concession Entitlement Card website.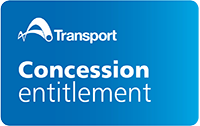 Cards are issued in line with the terms and conditions for tertiary students.
Concession travel for international students