Everest Carnival - Epsom Day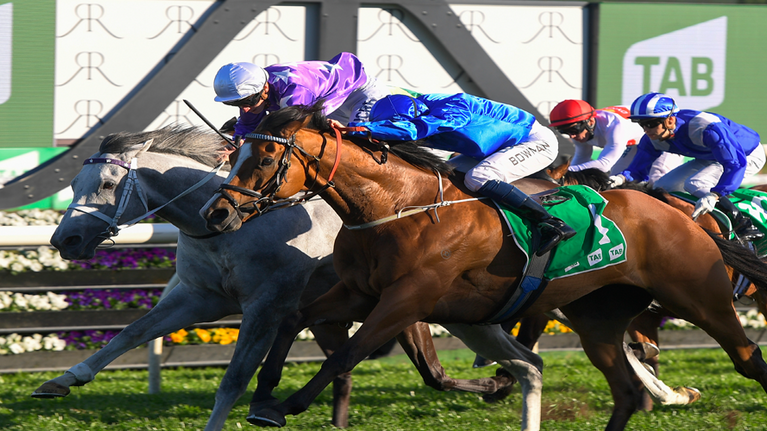 Royal Randwick Racecourse, Randwick
Gates open

10:45

First race

12:15

Last race

17:20
Important event information
Traffic will be heavy on roads around Randwick, Moore Park and Centennial Park on Saturday 5 October as up to 40,000 people are expected to attend a music festival at neighbouring Centennial Park between 12pm and 10pm.
Race Day attendees are encouraged to catch public transport as travel is covered by race tickets and shuttle buses will run to and from Central.
If you have to drive or are getting dropped off, allow plenty of extra travel time and make use of the designated drop off zones on Ascot St. Parking will be limited and special event clearways will also be in place on roads in the area until midnight so check signs carefully.
For more details on the changed traffic conditions and real-time updates, visit livetraffic.com.
Valid pre-purchased tickets to the Epsom Day Races on Saturday 5 October includes travel to and from Royal Randwick Racecourse on the following public transport services:
Train services (bounded by Bomaderry, Goulburn, Bathurst, Scone and Dungog stations)

Sydney Metro

Regular bus services

Special event shuttle bus services

Sydney Ferry and Newcastle Ferry services

Sydney Light rail services
Remember to keep your event ticket safe for your return journey or you'll need to use your Opal card or accepted contactless payment method as you must have a valid ticket when travelling on public transport. Your event ticket is valid on public transport until 4am the following day.
Note: an additional train station access fee applies for travel to or from Domestic and International Airport stations. Your event ticket entitlements does not include the access fee
Sydney Metro services are high-frequency, driverless trains running between Tallawong Station and Chatswood Station.
Metro services start running from the early morning. Change at Chatswood to connect with train services towards Central.
Last services from Chatswood to Tallawong leave at 12.45am on Thursday nights and at 1.45am on Friday and Saturday nights.
For Metro service disruption information, check trackwork and travel alerts or plan your trip using the Trip Planner.
The closest station to Royal Randwick Racecourse is Central. Shuttle buses will run direct to the Racecourse from Eddy Avenue at Central Station. 
Trackwork
Trackwork is taking place between 02:00 Saturday 5 October until 02:00 Tuesday 8 October and may affect how you travel to and from the event:
South Coast Line: Buses will replace trains between Port Kembla and Wollongong.
Trackwork is carried out on an ongoing basis to maintain the safety, reliability and efficiency of the Sydney Trains network. Trackwork may affect how you travel so allow extra travel time and plan ahead. For the latest information, check travel alerts and trackwork or use the Trip Planner.
Express special event buses (Route 32) will run to Royal Randwick Racecourse from Eddy Avenue at Central Station:
From Eddy Avenue at Central Station: Services will run from 10:15am until 1:30pm 
From ATC Randwick Bus Plaza: Services will run from 4pm until 7pm.
Many regular Sydney Buses services that travel between the City and Eastern Suburbs via Anzac Parade and Alison Road get you to Randwick Racecourse including routes 339, 373, 374, 376 and 377.
For bus service disruption information, check travel alerts or plan your trip using the Trip Planner.
Catch one of the many ferry services to Circular Quay and change for a train service to Central. From Central shuttle buses will run direct to the Racecourse from Eddy Avenue.
For ferry service disruption information, check travel alerts or plan your trip using the Trip Planner.
Light rail services run between Central Station and Dulwich Hill with stops at popular CBD and Inner West destinations. From Central you can change for a shuttle bus to Randwick.
For maps and service frequencies see Light rail service information. For light rail service disruption information, check travel alerts or plan your trip using the Trip Planner.
Roads around Randwick, Centennial Park and Moore Park will be very busy as large crowds also travel to other events at Centennial Park, The Entertainment Quarter and Hordern Pavilion on the same day.
Motorists should expect delays on roads around and approaching both precincts including Anzac Pde, Lang Rd, Oxford St, Syd Einfeld Dr, Darley Rd, York Rd and Alison Rd as a large number of vehicle pick-ups and drop-offs are expected. Motorists should also exercise caution as pedestrian activity on local roads will be higher than usual.
Traffic changes for CBD and South East Light Rail construction may affect how you travel. Plan ahead and allow extra time when travelling in the South East.For the latest traffic information visit Live Traffic NSW or download a real-time traffic app.
Limited car parking may be available at the infield car park and entry is off High Street. Members Private Reserved Parking is off the Abbottsford entry. Members Reserved Parking in the Infield is on the Eastern side of the road. Patrons must display their "members' car park permit" at all times.
Special event clearways
Special event clearway parking restrictions will be in place on roads around the racecourse including sections of Ascot St from 8am until 7pm and High St from 3pm until 7pm. Clearways are strict no-parking zones, and apply even to local residents or RMS Mobility Scheme Permit holders. Check signs before parking as vehicles left in special event clearways will be towed and a towing fee applies.
Visit Live Traffic NSW to see the locations of special event clearways.
Accessible trips are shown in the Trip Planner with the wheelchair icon. You can select "accessible services only" in the Options to ensure you only see accessible services. Only trip plans with accessible train platforms, ferry wharves and buses will be presented. See accessible travel or download a transport app (select the "Accessibility" filter).