Bikes on buses in the bush trial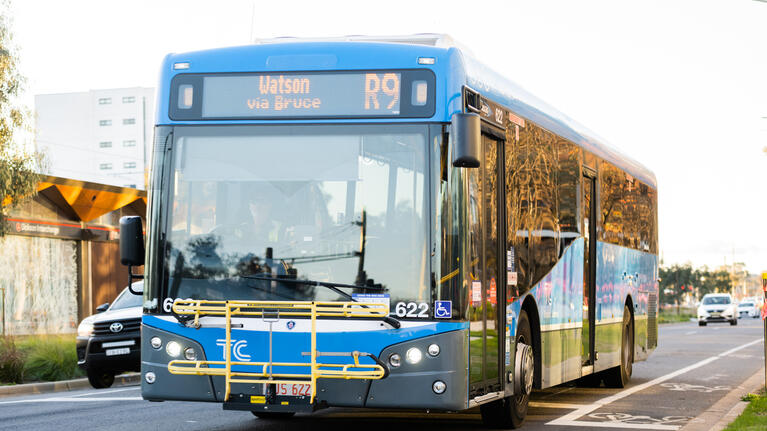 Photo supplied by Transport Canberra
"Bikes on Buses in the Bush" is a trial being rolled out in Wagga Wagga next month. This trial will see bike racks fitted onto the front of buses on the 960 bus route and may be used on different routes throughout the city, allowing users to combine a bike ride with a bus trip. The trial will run for an eight-week period and the bike rack will be available to customers for free.
This trial will explore future transport options for regional NSW and boost access and connectivity between different modes of transport. If the trial is a success, Transport for NSW may consider a wider rollout of this service on a permanent basis across regional NSW.
Beyond the health benefits of active travel, the integration of bike riding with buses will increase convenience, reduce congestion and greenhouse emissions, and initial research suggest it may appeal to customers not currently using public transport in Wagga Wagga.
Transport for NSW received a positive response from the community through the market re-search survey conducted last month. There were over 400 respondents and 100 participants have registered to take part in the on-road trial.
The service will improve connections for the community between active and public transport
It will provide connectivity to popular destinations around the city
The bike racks are simple and easy to use
The first "Bikes on Buses in the Bush" trial is set to begin next month in Wagga Wagga. The on-road trial will be rolled out on the 960 bus route which travels from Lake Albert in Wagga Wagga's south, through to the CBD, Estella and Charles Sturt University in the north. Buses with racks installed may be used on different routes through the city, although will not be regularly scheduled.
When the trial commences, a test bike rack will be available at the Visitor Information Centre in Tarcutta Street to enable potential users to practice using the rack before using it on the bus.
Each bike rack can hold two adult-sized, single seat bikes.
Feedback
Email: southprojects@transport.nsw.gov.au
Phone: 13 22 13