Better bus services for Dubbo

Dubbo will receive new and improved services as part of bus network enhancements from Monday 16 October 2023.
Timetables that are easier to understand are being introduced, along with more weekday services, new bus routes, and new services to connect you more reliably to where you need to go.
Some of the features of the new network and timetable include:
A new service every 30 minutes on weekdays between West Dubbo and Orana Mall, connecting Delroy Park Shopping Centre, Dubbo CBD, Dubbo Station, ALDI, Dubbo Base Hospital and TAFE.
New services to South Dubbo, including Keswick and Southlakes.
New services to West Dubbo, including Grangewood and Delroy Park.
More timely, direct services to Dubbo Base Hospital.
New services to North Dubbo industrial area.
A new service between Taronga Western Plains Zoo and Orana Mall via Dubbo CBD.
New services to Western Plains Cultural Centre, Dubbo Showground, Bunnings and Dubbo Sports World.
New services on Sundays and Public Holidays.
You will also now be able to pay by cash or by tapping your credit or debit card, phone or watch when boarding the bus.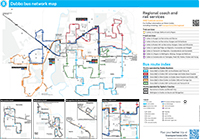 Dubbo bus network map (pdf 1.7MB)
How to plan your better bus trip
From 2 October, check the new timetables online with the Trip Planner.
Simply enter your departure point and destination to see your trip options on an interactive map and get real-time updates.
Or download the free Opal Travel app from the Apple App Store or Google Play Store to plan your whole journey, save your preferred routes and services and find recent trips.
For more travel apps to suit your needs visit our apps page.
If you have questions about the service improvements, please email regionalcitiesprogram@transport.nsw.gov.au or contact the 16 Regional Cities Services Improvement Program on 1800 717 528.
You can also contact:
Dubbo Buslines
(02) 6882 2900
info@dubbobuslines.com.au
buslinesgroup.com.au/dubbo/timetables
Ogden's Coaches
(02) 6884 3101
dubbo@ogdenscoaches.com.au
ogdenscoaches.com.au
Help in other languages
For help in other languages please call TIS National on 131 450 and ask them to contact The 16 Regional Cities Services Improvement Program (Dubbo) on 1800 717 528.
अन्य भाषाहरूमा मद्दतको लागि कृपया टिआईएस नेसनल (TIS National) लाई १३१ ४५० मा सम्पर्क गर्नुहोस् र तिनीहरूलाई १६ क्षेत्रीय शहर सेवा सुधार कार्यक्रम (डब्बो) को लागि १८०० ७१७ ५२८ मा सम्पर्क गर्न अनुरोध गर्नुहोस्।
ਹੋਰ ਭਾਸ਼ਾਵਾਂ ਵਿੱਚ ਮੱਦਦ ਲਈ ਕਿਰਪਾ ਕਰਕੇ TIS ਨੈਸ਼ਨਲ ਨੂੰ 131 450 'ਤੇ ਫ਼ੋਨ ਕਰੋ ਅਤੇ ਉਨ੍ਹਾਂ ਨੂੰ 1800 717 528 'ਤੇ '16 ਰਿਜ਼ਨਲ ਸਿਟੀਜ਼ ਸਰਵਿਸਿਜ਼ ਇੰਪਰੂਵਮੈਂਟ ਪ੍ਰੋਗਰਾਮ' (ਡੱਬੋ) ਨਾਲ ਸੰਪਰਕ ਕਰਵਾਉਣ ਲਈ ਕਹੋ।
മറ്റു ഭാഷകളിൽ സഹായം ലഭിക്കുവാൻ ദയവായി റ്റിസു് നാഷണലിനെ 131 450 എന്ന ഫോൺ നബറിൽ വിളിക്കുക, എന്നിട്ട് അവരോടു് 1800 717 528 എന്ന ഫോൺ നബറിൽ 16 റീജണൽ സിറ്റീസു് സർവീസസു് ഇംപൃൂവ്മെൻറ് പൃോഗൃാം (ഡബോ)-യിൽ ബന്ധപ്പെടുവാൻ ആവശൃപ്പെടുക.
 
Watch the video to learn more about our bus services improvement program for Dubbo
Network overview by route and frequently asked questions
Download the full list of FAQs (pdf 446KB), including tips on how to travel to key locations within Dubbo by bus.