Safety when travelling by metro and train
Safety tips to avoid slips trips and falls at train stations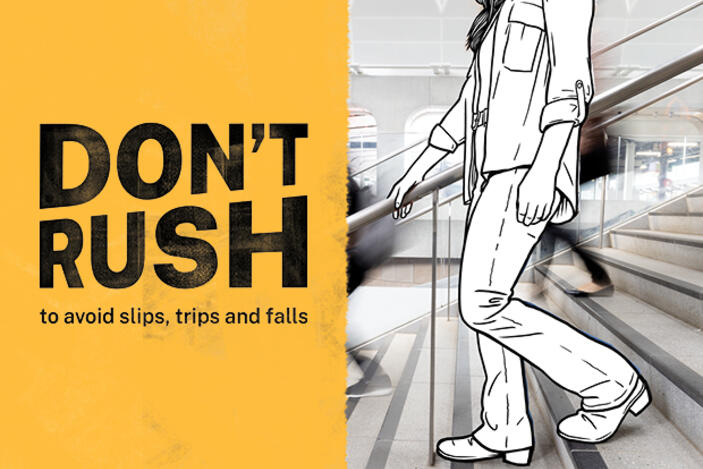 Don't rush
Plan ahead and allow enough time for your journey. Don't rush on platforms, stairs or escalators.
Slow down in the wet
Wet weather can mean slippery platforms, stairs and escalators, slow down and take extra care when it's wet.
Mind your step
To avoid slips, trips and falls mind your step in and around the station especially on the platforms, stairs and escalators, and when getting on and off the train.
Use the lift for your pram, bicycle or luggage
For your safety, please use the lift if you are travelling with a pram, bicycle or luggage.
When catching metro and train services, follow these tips and guidelines for a safe trip.
If you have accessibility requirements, read through the accessible travel information.
Safety tips
Plan ahead, allow plenty of travel time and slow down to avoid slips and falls.
Stay alert and don't be distracted by your mobile phone.
If you see something, say something
By reporting security incidents, unattended items or suspicious behaviour, you can help us respond to any immediate problems and make it safer for everyone.
Call 000 or contact the National Security Hotline on 1800 123 400.
If you feel unwell
If you are not feeling well or you see someone who looks like they need help, use the Emergency Help Point or speak with station staff, or the train guard where available, and they will arrange medical assistance.
Please do not board the metro or train service if you're not feeling well at the station. We will be able to get help to you much quicker at the station.
In an emergency or evacuation situation
In an emergency situations it is safer to remain in the train and follow instructions from the staff.
In an emergency or evacuation situation on Sydney Metro please remain on the metro train and follow the instructions of either the Customer Journey Coordinator or the Sydney Metro Operations Control Centre.
Use emergency door releases on newer trains only if immediate evacuation becomes necessary.
If the train is evacuated, go to a safe place off the tracks, but stay nearby so emergency workers can locate you.
There are severe penalties for the misuse of the safety system under the Rail Safety Act. The maximum penalty is a fine of $110,000 or three years imprisonment or both.
In an emergency, call 000.
Safety tips for travelling on the Metro