Sydney's new pop-up cycleways help you ride to work

You can now cycle around Sydney more easily, with the opening of new cycleways in Sydney and surrounds.
Choose the cycling option in the Trip Planner for help planning your riding route.
| | |
| --- | --- |
| Sydney Park Road, Erskineville | Opened 3 July 2020 |
| Henderson Road, Erskineville | Opened 8 July 2020 |
| Pitt Street, Sydney CBD | Opened 23 July 2020 |
| Dunning Avenue, Rosebery | Opened 7 August 2020 |
| Moore Park Road, Moore Park | Opened 11 August 2020 |
| Pyrmont Bridge Road, Pyrmont | Opened 21 September 2020 |
Transport for NSW has been working in partnership with the City of Sydney to open the above six pop-up cycleways that connect to existing cycling routes and employment hubs.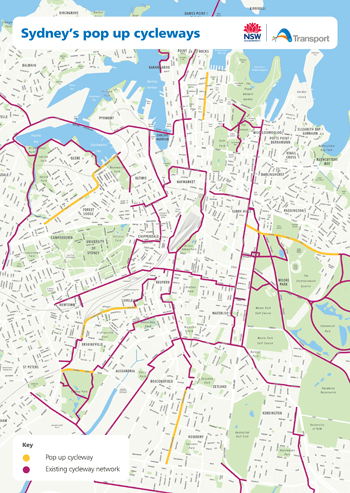 Download this pop-up cycleways map (pdf 6.2MB)
The six pop-up cycleways are part of our CovidSafe Travel Plan to get people to rethink the way they travel and consider more active transport options such as cycling and walking. Pop-up cycleways take the pressure off public transport and roads. Walking and cycling is a convenient and healthy transport choice for short trips.
Speed limits along some of these pop-up cycle routes have also been reduced from 60km/hr to 40km/hr, making it safer to cycle and encouraging more people to take up the option.
Transport for NSW continues to work with other councils to deliver more pop-up cycleways across Greater Sydney and regional areas.
More resources