COVID-19: Travel advice and information
Latest travel changes
COVID-related staff shortages have impacted most public transport services.
We are managing these impacts to ensure the safety of our customers and staff while also providing vital transport services.
We thank customers for their patience and ask that people plan ahead and allow extra travel time.
If you need to move around, we ask you to:
plan ahead and use the Trip Planner to see the latest service information.
wear a mask, face masks are strongly recommended on public transport, including taxi and rideshare services.
consider your travel options, including travelling off peak, walking, cycling and driving if possible.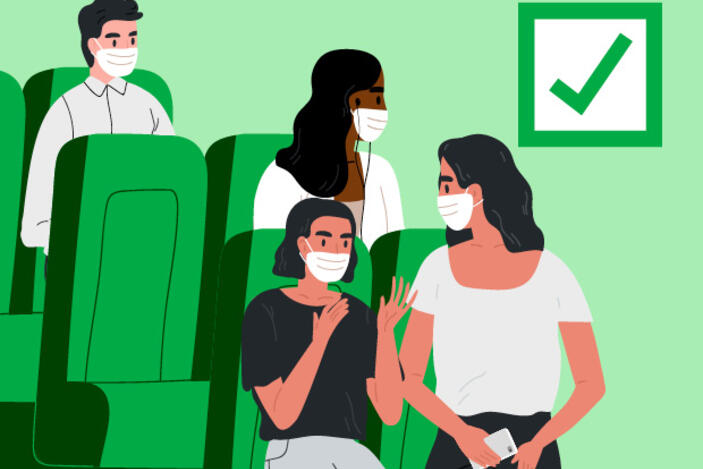 Face masks strongly recommended
To help you plan ahead on public transport we have updated the capacity information available. Plan safe and comfortable trips by checking service capacity. Look for the indicators at stations, stops and wharves, in the Opal Travel app, the Trip Planner and Departures.
Real time capacity
Plan ahead and check capacity before boarding the service:
Estimated capacity in the Trip Planner and Opal Travel App
Estimated capacity information is now available for all metro and train, Opal-enabled bus, ferry and light rail services in the Trip Planner and Opal Travel App to help you plan ahead. Based on previous data, the estimated capacity is used whenever real-time data is unavailable.
If you see:
| | |
| --- | --- |
| | A one person icon and/or green indicator shows space available. |
| | A two person icon and/or amber/orange indicator shows limited space to maintain distance from other passengers. |
| | A three person icon and/or red indicator shows the service has reached capacity. |
Travel Notifications on the Opal Travel app provide advanced personalised alerts for capacity on trains and Metro, all without having to plan a trip.
The new features allows you to know in advance, plan and see when a service is most likely to have available capacity on board, rather than arriving at the station to find the service is already at full capacity. The notifications will also let you know if your service is running on time or delayed and if it is impacted by a major disruption.
Eligibility
If you have an active Opal Card and have used it to pay for your regular travel over the last 21 days by train or Metro, please download the Opal Travel app to the latest version and subscribe to travel notifications.
How to set it up
If you are eligible, you will be invited to opt in based on your recent travel patterns. The travel notifications banner will display on the home screen allowing you to follow the prompts to set up the notifications.   
Once you have successfully set up the notifications, you will receive a notification 30 minutes before each specified departure time. The notification will provide information for your regular train/Metro service, such as predicted capacity on board, and other services.
If you are travelling, we are asking you to follow these safety and hygiene measures to help protect you and everyone else on the transport network:
Face masks are strongly recommended where you cannot physically distance
Stay home if unwell
Wash your hands regularly to protect yourself, fellow commuters and Transport for NSW staff
Cover any sneezes or coughs with your inner elbow or with a tissue that is then discarded
Use hand sanitiser
Use Opal or contactless payments to pay for your travel
What we are doing
Transport for NSW would like to thank our customers and staff across NSW for their support and hard work during this time.
We're continuing to do everything we can to make our network as safe as possible to travel on.
Other modes of transport
To help keep yourself and others safe and keep traffic levels lower, we're encouraging everyone to walk and cycle if they can.
By choosing to walk and cycle to work, school, the shops or for local trips, you are keeping yourself fit and healthy, saving money and staying safe.
Pop-up cycleways
We are working with councils across Sydney and surrounds to open new pop-up cycleways that connect to existing cycling routes and employment hubs.
Speed limits along these cycle routes are reduced to provide a safer environment for pedestrians and cyclists.
Find out more about pop-up transport options and locations.
Plan your walking or cycling trip
You can use the Trip Planner to plan a bike ride or walking route for all or part of your trip. Select your preference for:
walking or cycling
how long you want to allow for each option
your preferred speed
Pedestrians are reminded
Roads may be less congested, but stick to the Road Rules for pedestrians. These include:

obeying signals at crossings
crossing at a pedestrian crossing if one is available
not walking on the road (unless there's no footpath or nature strip to walk on)
Never assume a driver has seen you or intends to stop
Avoid crossing the road while using headphones or mobile phones
Always hold the hand of children when crossing the road
Automated pedestrian crossings
Automated pedestrian crossings at traffic lights within the Sydney CBD and key health districts across the Greater Sydney area are active 24 hours a day to help limit the spread of COVID-19.
You do not have to push the button at signalised crossings to safely cross the road in the CBD or these health districts.
Bicycle riders are reminded
Ride on low traffic roads/dedicated bike paths or shared paths if you are a new or less experienced rider
Roads may be less congested, but stick to all the Road Rules for bicycle riders; these include:

wear an approved helmet, securely fitted and fastened
use lights at the front and back at night or when the light is poor
if you're riding with children under the age of 16, you can ride on the footpath; however, you must keep left and give way to pedestrians

Give yourself plenty of buffer space, look out for car doors opening and leave yourself room to stop
Increase your visibility by wearing bright or high-vis clothing
Use your own bike if you can and make sure it is well maintained – tyres are pumped, chain is oiled and brakes are working
For more cycling information:
Drivers are reminded to obey the road rules and take care.
Drivers and motorcycle riders are reminded
Continue to follow the Road Rules
Watch your speed and always comply with speed limits; lower speeds reduce the severity of crashes
Keep a lookout for pedestrians on, or crossing, the road – there are many more around
Look out for bicycle and delivery riders – always check your blind spots and remember to observe the minimum passing distance for bikes too:
1 metre when the speed limit is 60km/h or less
5 metres when the speed limit is more than 60km/h