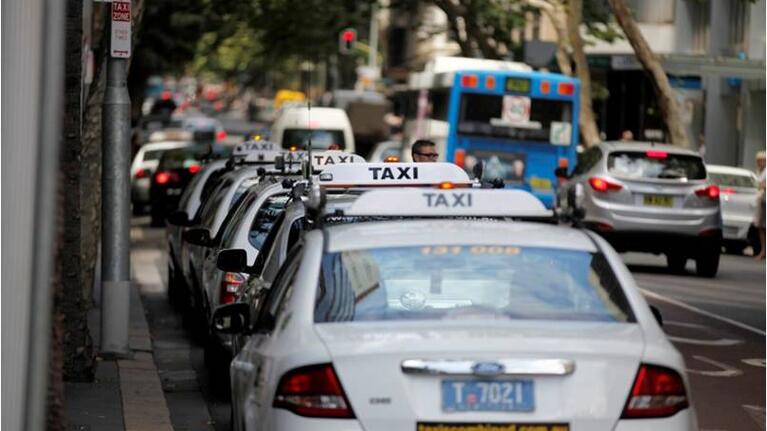 Secure taxi ranks usually operate late on Friday and Saturday nights in busy locations across NSW. Security guards are on duty to help ensure a safe environment for both customers and drivers.
Pre-paid fares
Taxi drivers have the option to ask you to pre-pay your taxi fare from these secure taxi ranks. Security supervisors at the secure ranks will help to estimate your fare.
From Thursday 3 December 2020, additional secure taxi rank services are being provided as part of the Sydney CBD Summer Revitalisation Initiative.
You are encouraged to use the QR code in taxis where available.
Suburb / area
Street address
Operating days and times
Campbelltown
Hurley Street slip road, Campbelltown Station
Map
Fri and Sat 22:00-03:00
Coogee
Dolphin Street, cul-de-sac, next to the Coogee Pavilion
Map
Fri and Sat 21:00-04:00
Cronulla
Kingsway, Cronulla Plaza
Map
Fri and Sat 23:00-04:00
Hornsby
Station Street, near Hornsby Station
Map
Fri and Sat 23:00-05:00
Kings Cross
33 Bayswater Road
Map
Fri and Sat 22:00-05:00
Kings Cross
Darlinghurst Road, near Roslyn Street
Map
Fri and Sat 22:00-05:00
Manly
Belgrave Street, in front of the Manly Council building
Map
Fri and Sat 22:30-05:00
Manly
North Steyne, opposite Raglan Street
Map
Fri and Sat 22:30-05:00
Miranda
600 The Kingsway, in front of the Westfield Shopping Centre
Map
Fri and Sat
23:00-04:00
Newtown
270-276 King Street Newtown (Southbound outside the Commonwealth Bank)
Map
Fri and Sat 22:00-05:00
Parramatta
Fitzwilliam Street, between Fire Horse Lane and Wentworth Street, in front of City of Parramatta Library
Map
Fri and Sat 22:00-04:00
Penrith
Belmore Street, near Penrith Station
Map
Fri and Sat 22:30-05:00
Surry Hills
Oxford Street, between Pelican and Riley streets
Map
Fri and Sat 22:00-05:00
Sutherland
Flora Street, between Belmont and Glencoe Streets
Map
Fri and Sat 23:00-01:30
Sutherland
Boyle Street
Map
Fri and Sat 01:30-05:30
Sydney CBD
201 Sussex Street (outside Healthline Pharmacy, Darling Park Centre)
Map (Extra nights during CBD Summer Revitalisation)

Thr, Fri, Sat, and Sun
22:00–05:00

Sydney CBD
Bathurst Street, west of George Street outside St Andrew's Cathedral
Map (Extra nights during CBD Summer Revitalisation)

Thr, Fri, Sat, and Sun
22:00–05:00

Sydney CBD
18a Martin Place - between Martin Place and Hunter Street near - Angel Place
Map (Extra nights during CBD Summer Revitalisation)
Thr, Fri, Sat, and Sun
22:00–05:00
Sydney CBD
Darling Harbour, northern end of Lime Street
Map (Extra nights during CBD Summer Revitalisation)
Thr, Fri, Sat, and Sun
22:00–05:00
Sydney CBD
Darling Harbour, Slip Lane (Iron Wharf Place, between Harbourside Shopping Centre and International Convention Centre)
Map (Extra nights during CBD Summer Revitalisation)
Thr, Fri, Sat, and Sun
22:00–05:00
Sydney CBD
Sydney CBD Loftus Street, between Bridge Street and Reiby Place, Circular Quay
Map (Extra nights during CBD Summer Revitalisation)
Thr, Fri, Sat, and Sun
22:00–05:00
Sydney CBD
Sydney CBD Goulburn Street, outside 43-57 Goulburn Street, Haymarket 
Map (Extra nights during CBD Summer Revitalisation)
Thr, Fri, Sat, and Sun
22:00–05:00
Sydney CBD
12 Argyle Street, The Rocks (opposite Clock Tower Square Shopping Centre)
Map (Extra nights during CBD Summer Revitalisation)
Thr, Fri, Sat, and Sun
22:00–05:00
Sydney CBD
262 Pitt Street, between Park Street and Bathurst Street, near Park Street
Map (Extra nights during CBD Summer Revitalisation)
Thr, Fri, Sat, and Sun
22:00–05:00
Sydney CBD
4 Bridge Street, northside, between George and Pitt Streets
Map (Temporary secure rank during CBD Summer Revitalisation)
Thr, Fri, Sat, and Sun
22:00–05:00
Sydney CBD
17 Bridge Street, southside between George and Pitt Streets
Map (Temporary secure rank during CBD Summer Revitalisation)
Thr, Fri, Sat, and Sun
22:00–05:00
Sydney CBD
61 Market Street, between Pitt and Castlereagh Streets
Map (Temporary secure rank during CBD Summer Revitalisation)
Thr, Fri, Sat, and Sun
22:00–05:00
Sydney CBD
115 Liverpool Street, between George and Pitt Streets
Map (Temporary secure rank during CBD Summer Revitalisation)
Thr, Fri, Sat, and Sun
22:00–05:00
Sydney CBD
475 Kent Street, between Druitt and Bathurst Streets
Map (Temporary secure rank during CBD Summer Revitalisation)
Thr, Fri, Sat, and Sun
22:00–05:00
Albury
Dean Street
Map
Fri and Sat 23:00-05:30
Albury
 
Olive Street
Map
Fri and Sat 23:00-05:30
Batemans Bay
 
Orient Street
Map
Sat 22:00-02:00
Bathurst
Russell Street
Map
Fri and Sat 23:00-04:00
Bowral
 
Bong Bong Street (Corbett Plaza)
Map
Fri and Sat 23:00-03:00
Byron Bay
Jonson Street
Map
Fri and Sat, 23:00-04:00
Central Coast
176 Terrigal Drive, outside Terrigal Hotel
Map

Sat 23:00-04:00

Central Coast
Terrigal (Outside the Crowne Plaza)
Map
Sat 23:00-04:00
Central Coast
Gosford - Baker Street
Map
Sat midnight-04:00
Coffs Harbour
Grafton Street
Map
Fri and Sat 23:00-04:00
Cowra
Macquarie/Kendall Streets
Map
Fri and Sat 23:00-03:00
Forbes
Templer Street
Map
Sat and Sun, 01:00-05:00
Griffith
Banna Avenue
Map
Fri and Sat 22:30-05:00
Gunnedah
Barber Street, outside Railway Hotel
Map
Fri and Sat 22:00-03:00
Hamilton (Newcastle)
Cleary Street
Map
Fri and Sat midnight-05:00
Hamilton (Newcastle)
Corner of Beaumont Street and Hudson Street (outside Sydney Junction Hotel)
Map
Fri and Sat 23:00-04:00
Kiama
 
Corner Shoalhaven and Terralong Streets
Map
Sat 23:30-03:30
Lismore
Keen/Woodlark streets
Map
Fri 22:30-03:00 and Sat 23:00-04:00
Lithgow
Main Street
Map
Fri and Sat 23:00-04:00
Mudgee
 
Corner Mortimer and Church Streets
Map
Fri and Sat 23:00-04:00
Newcastle
Corner Steel and King Streets, (opposite McDonalds)
Map
Sat 23:00-04:00
Newcastle
Corner of King and Darby Streets (opposite the Finnegans Hotel)
Map
Fri and Sat 23:00-04:00
Orange
Lords Place, Robertson Park
Map
Fri and Sat, 22:30-05:00
Parkes
Corner Dalton and Welcome Streets
Map
Fixed cameras 24 hours, seven days (no security attendance)
Port Macquarie
Horton Street
Map
Fri and Sat 23:00-04:00
Raymond Terrace
The Close, outside Terrace Central Shopping Centre
Map
Wed to Sun 09:00-16:00
Singleton
John Street
Map
Fri and Sat 23:00-03:00
Tamworth
Brisbane Street
Map
Fri and Sat 22:30-05:00
Tumut
Cameras at Wynyard Street
Map
Fixed cameras 24 hours, seven days
Wagga Wagga
Corner of Gurwood and Fitzmaurice Streets (outside Woolworths)
Map
Fri and Sat 23:00-05:00
Wagga Wagga
Station Place
Map
Fri and Sat, 22:30-05:00
Wollongong
Corrimal Street
Map
Fri and Sat 23:30-03:30
Wollongong
Atchison Street (in front of Fever Night Club)
Map
Fri and Sat midnight-06:00
Wollongong
Crown and Kembla Streets
Map
Fri and Sat 23:30-04:30
Wollongong
Wollongong Keira and Market Streets
Map
Fri and Sat 23:30 - 04:00
Young
Cameras at Boorowa and Main Streets
Map
Fixed cameras 24 hours, seven days (no security attendance)