Accessible light rail travel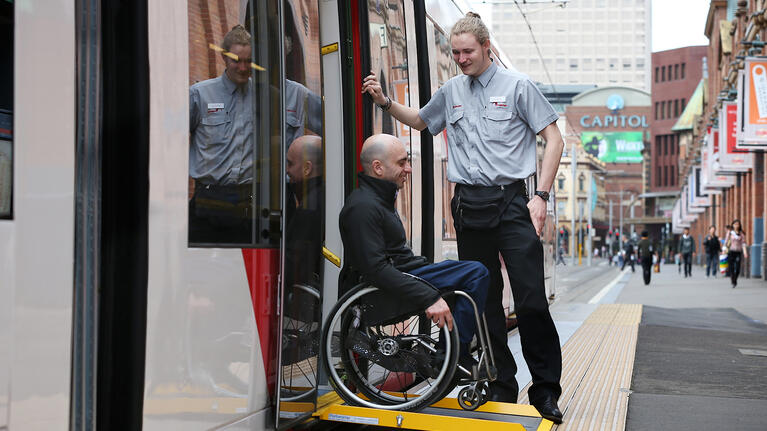 If you have limited mobility, you can travel on all light rail services. Staff can assist you with getting on and off light rail vehicles.
There are ramps or lifts for getting to and from the platform and all light rail stops have network maps and electronic information displays indicating when the next service is due.
Check the accessibility facilities at the light rail stop locations and read through the tips for planning an accessible trip.
If you require assistance or the ramp to board the light rail wait for your service by positioning yourself in the wheelchair boarding zone. Look for the wheelchair symbol marked in the tiles on the platform.
On approaching the stop, the driver or Customer Service Officers will be notified and will be ready to assist you with the boarding ramp.
When you are on board, park in the designated wheelchair space. Ensure your mobility aid is out of the aisle and apply the brakes.
If the vehicle is full or the designated areas already have passengers with mobility aids, you will have to wait for the next service.
Next stop audio announcements are made on board. When approaching your stop, use the Emergency Help Point button to alert the driver that you require the boarding ramp at the next stop.
Glebe light rail stop is easily accessible and pram and wheelchair-friendly. There is, however, a steep incline up to Glebe Point Road from this stop. It may be easier to access Glebe Point Road from the Jubilee Park light rail stop.
If you have any questions about station access, phone 02 8584 5288, 24 hours a day.