Planning an accessible trip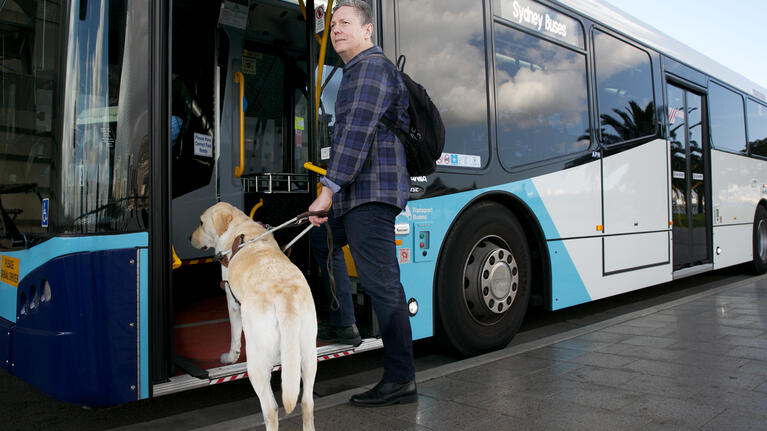 In New South Wales, the majority of public transport services are accessible.
Mobility aids including wheelchairs, scooters, walking frames, prams and strollers can safely board and travel on all metro and light rail services and most trains, buses and ferries.
Assistance animals are permitted on all public transport in NSW.
Using the Trip Planner
You can see accessible service information provided in every trip plan.
Refine your accessible trip results with the Trip Planner by choosing options and selecting the accessibility check box.
With the Trip Planner, you can also:
get real-time service information and view route maps
save your favourite trips
copy and share a link to your trip plan
print a copy of your trip plan
Follow the Trip Planner help for further instructions.
Other tools and resources
Download a transport accessibility app that best suits your needs. With transport apps, you can:
get real-time service information and view network maps
save your trips
get directions and alerts on the move
Transport Bot on Google Assistant offers rich trip planning including walk, cycle and drive options for end-to-end trip planning across all public transport modes and has been verified as accessibility compliant to WCAG 2.1's 4 principles of perceivable, operable, understandable, and robust.
If you are travelling with a wheelchair or scooter, check that it fits the mobility aid specifications for public transport.
View bus network maps for the modes you wish to travel on or view route in the Trip Planner
If travelling by rail, check upcoming trackwork and travel alerts.
View maps of major transport interchanges showing the location of platforms, stops, wharves, lifts, toilets and exits.
Travel with a friend or carer if you will need help throughout your trip.
Organise your Opal card or ticket, ensuring you have the correct proof of entitlement card. There are ticketing concessions for people with special needs and their companions.
On the day of travel, check for travel alerts including out-of-order lifts and toilets. Arrive early for your service and allow plenty of travel time for your trip.
If you need assistance, talk to staff about your trip plan and travel requirements.
More information
Each mode of transport has different considerations for accessible travel.
Check the features and travel tips for each mode: