If you want to ride your bike to a public transport hub and then catch a train, bus or ferry, you can park your bike in a free covered bike shed or a lockable rented bike locker. There's a growing number of bike sheds and lockers at train stations, ferry wharves and bus interchanges all over NSW to make it easier for you to combine bike riding with your public transport journey.
Bike sheds and bike lockers help you keep your bicycle, helmet and other equipment safer and protected from the weather. So check them out and see how you can Bike and Ride.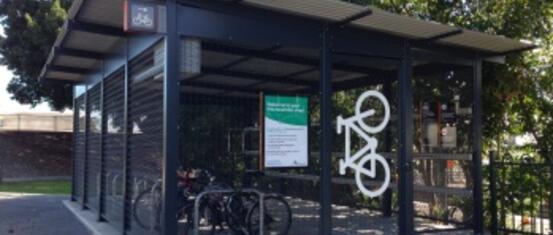 Bike sheds
Bike sheds are enclosed, shared shelters where you can store your bike out of the weather free of charge. They accommodate between 20 and 50 bicycles, depending on requirements at the bike shed location.
You don't have to pre-book a space.
To gain entry to a bike shed, first link your Opal card and then accept the Bike shed terms and conditions.
Please note
Allow one business day for your shed access to be activated.
Spaces cannot be guaranteed inside a shed as they are provided on a first in first served basis.
You will need an Opal card which has been activated for bike shed access to also exit a bike shed as electronic readers are installed inside all bike sheds to reduce unauthorised access and tail-gating.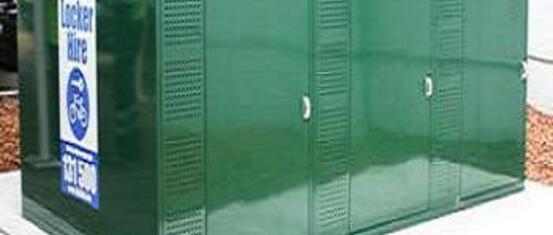 Bike lockers
A bike locker is an individual lockable space which helps keep your bike and equipment protected from bad weather, theft and vandalism.
For a refundable key deposit of $50 and your choice of rental periods, you get your own locker key, which means only you have access.
There are over 950 bike lockers at over 130 interchanges across the public transport network.
$50 for 3 months
$100 for 6 months
$150 for 9 months
$180 for 12 months
Complete

 

user registration.
Select your

 

bike locker location..
Choose your length of hire, and agree to the rental conditions.
Use your credit card to pay your hire fee online.
We'll mail you your locker key.
You'll get an email just before the end of your rental period asking if you'd like to keep your locker. You can renew your locker hire for another 3, 6, 9 or 12 months as often as you like.
If you're already hiring a bike locker and would like to swap to a bike shed, simply:
Cancel your

 

bike locker hire.
Your deposit and remaining hire period will be refunded to you minus a 2 month withholding fee as per the bike locker terms and conditions.
If you would like to continue hiring your bike locker as well as access a bike shed at no additional cost, simply Link your Opal card and agree to the terms and conditions. Please allow one (1) business day for your shed access to be activated.
Please note
When you leave your bicycle in a bike shed or locker, you do so at your own risk. Transport for NSW endeavors to provide bike facilities to appropriate security standards. However, we cannot guarantee the security of property inside the facilities.
Please see the full Terms and Conditions of using bike sheds and bike lockers.