More and more people are now riding their bike to get around Sydney. Riding your bike is a convenient, healthy and environmentally-friendly transport option for getting to where you need to go. You can see NSW on two wheels or combine riding with travel on public transport to get around.
Plan your bike trip with Trip Planner
When planning your route, you should consider your skill level and preferences. The Trip Planner has options to allow you to plan your bike riding route based on your skill level and preferences.
Use the cycle option within the Trip Planner for an end to end trip plan by bike in three easy steps:
Enter your starting point
Enter your destination and;
Choose your preferred type of trip (easier, moderate or more direct), based on your skill level or preference.
The type of trip you choose can be either easier, moderate or more direct.
Easier: Ideal for new cyclists, young riders or those that would prefer an easier route by avoiding hills and busy roads where possible.
Moderate: Best suited to intermediate cyclists who don't mind the occasional hill and are comfortable riding on some roads.
More direct: For experienced cyclists who want to minimise travel time, can handle steeper hills and navigate busy roads.
The Trip Planner will allow you to select a route that connects you to and from public transport.
For example, if you want to cycle for the first part of your journey from your home to a train station, then by train onto the office.
To plan a mixed trip using Trip Planner:
Enter your starting point and destination
In the options tab, select whether you want to include cycling at the start or the end of your trip
Enter how long you are willing to spend cycling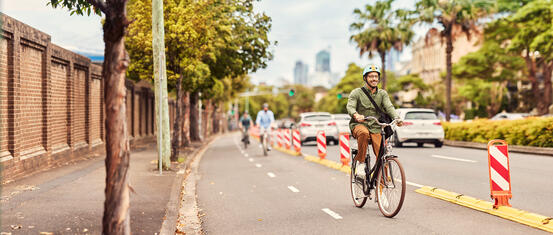 Dedicated cycleways and routes
There is a growing number of dedicated cycleways available across Sydney and NSW to help you get around safely and easily on your bike. 
Pop-up cycleways are dedicated bike paths separated from pedestrians and cars and connected to the existing cycleway network.
Transport for NSW in partnership with City of Sydney has opened six pop-up cycleways across Sydney.
Children under 16 years of age are allowed to ride on a footpath. An adult rider who is supervising a bike rider under 16, may also ride with the younger rider on the footpath.
Outside of this, there are many family-friendly cycleways across Sydney and NSW that help families get around safely on two wheels.
Western Parklands Track
There are over 60km of tracks and trails ready for cycling and walking in the Western Sydney Parklands, you can reach the Parklands from the nearest train station at Doonside. Find out more
Parramatta River Cycle Path
Ride alongside the River from Kissing Point all the way to Parramatta with minimal on-road riding and no hills. With several Ferry wharves along the way from Parramatta to Kissing Point, you can catch a Ferry to the path, or ride one way and take the Ferry back. Find out more
Woolooware Bay Shared Pathway
The Woolooware Bay Shared Pathway is a short 5km, bike, scooter, pram and walk friendly section of the 43.6 kilometre long Botany Bay Trail. With several drink stations and water views along the way, you can safely walk or cycle along a dedicated shared pathway around Botany Bay from La Perouse to Kurnell. Find out more
The Greenway, Inner West
The Greenway is a mix of bike paths and foreshore walks linking the Cooks River at Earlwood with the Parramatta River at Iron Cove. Following the route of the L1 Inner West light rail line and Hawthorne Canal there is easy public transport access and there are a number of cultural and historical sites, cafes, bushcare sites and a range of parks, playgrounds and sporting facilities along the way. Find out more
Fernleigh Track
Following the route of a former rail corridor in the Newcastle and Lake Macquarie regions of New South Wales, the 15km Fernleigh Track provides a pleasant travel for walking or cycling through a bushland setting. Find out more
Tramway Track
This shared cycle/pedestrian path is a safe environment for family groups and beginners and provides a western link between the Newcastle and Lake Macquarie council areas winding up through attractive bushland cuttings and embankments to a summit. The steady shallow gradient required for steam trams is ideal for walkers and cyclists of all abilities. Find out more
Tumbarumba to Rosewood Rail Trail, Snowy Valleys
This 21km sealed route is based on a former rail corridor and takes in four restored bridges, two heritage-listed buildings from the 1870s and scenic countryside along its gentle gradients and sweeping curves. Find out more.
CyclewayFinder is a database of cycleway infrastructure located throughout NSW which can display attributes of a particular path segment within an area.
Simply search for the location you're interested in and then click on the path detail.
A pop up box will appear showing certain features attributes such as type of road, difficulty level, how steep the road is and the road surface material.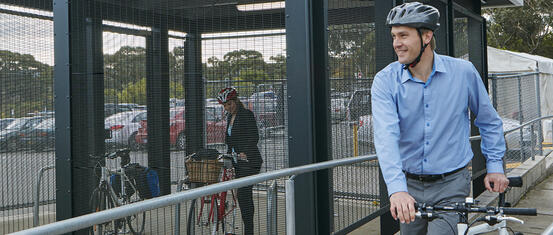 Bike sheds and lockers
Bike parking facilities, including bookable bike lockers or Opal enabled bike sheds, are available at many stations, wharves and bus interchanges all over NSW to make it easier for you to combine riding with your public transport journey.
You can look up your station, stop or wharf to check what bike parking facilities are available.
Bike racks are also freely available at most public transport locations.
Bikes on public transport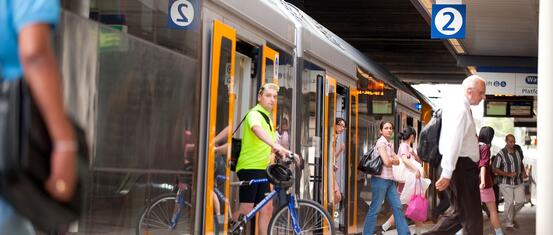 Travelling with bikes
See where and when you can take your bike on our transport, including ticketing, see bikes and boards.
Safety tips and road rules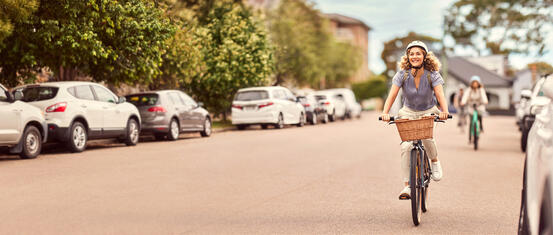 Road safety
Tips for safe riding can help you better share the roads and avoid danger. Visit the Centre for Road Safety website to see how you can ride safely on the road.
Watch how to use the bicycle network videos for commuting and recreation purposes. The videos cover shared paths, how traffic signals detectors work, negotiating with buses and more.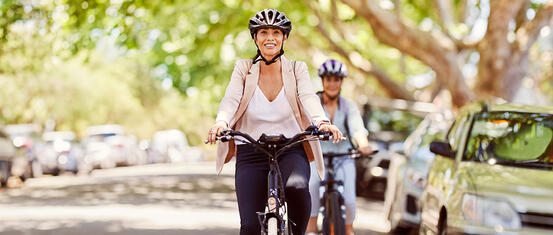 Road rules and road user's handbook
For valuable tips on road safety, bike maintenance, road rules and the legal aspects of riding your bicycle, download the handbook for bicycle riders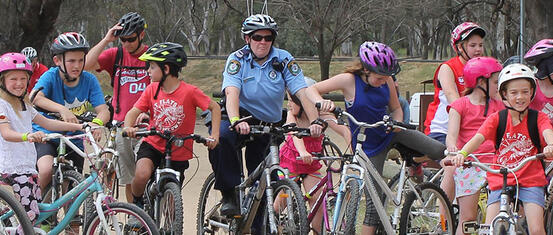 Bike events around NSW
Get involved with a number of regular events held around the year in NSW.