Automated pedestrian crossings expanded in NSW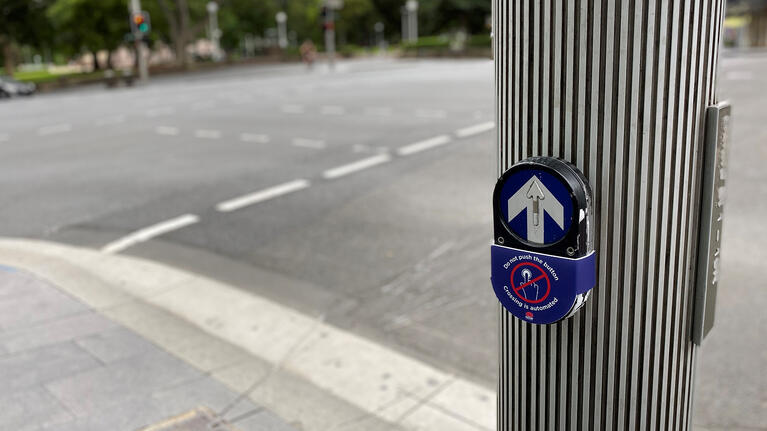 The automation of pedestrian signal crossings continues to be gradually expanded to key health precincts across NSW to help limit the spread of the Coronavirus in the community.
Transport for NSW is working closely with NSW Health to identify key health precincts where this targeted initiative would be most effective in protecting those who are most vulnerable including essential frontline staff, as well as patients and members of the community visiting a hospital or clinic.
The pedestrian signals at some traffic intersections in the immediate vicinity of major health precincts have become automated 24 hours a day, seven days a week. At selected temporary COVID-19 assessment clinics, pedestrian crossings have become automated between the hours of 6am to 10pm daily, to closer align with the clinic's operating hours.
Pedestrians no longer need to push the 'call' button to activate the pedestrian signal crossing at these sites while still being able to cross the road safely and access health services.
Transport for NSW has taken a targeted approach by implementing this public health measure where pedestrian activity for access to health services is high and it would be most effective in limiting the spread of Coronavirus.
Any further expansion of the initiative would be targeted to additional health precincts only while also taking into consideration impacts on road safety, traffic and transport operations including public transport and freight, and community amenity.
This initiative was first rolled out on Monday 23 March across the Sydney CBD and Pyrmont (see area map (pdf 531KB)). The expansion into health precincts started Saturday 28 March in Randwick at the Sydney Children's Hospital and Prince of Wales Hospital.
Transport for NSW continues to work with NSW Health in reviewing the benefits of these implemented measures and balancing the needs of the community.
Automated pedestrian signal crossings have been rolled out in the following health precincts:
Suburb
Health precincts
Automated signal status

Blacktown

Active 24/7

Bondi Beach

Campbell Pde at Roscoe St
Campbell Pde at Curlewis St
Campbell Pde at Beach Rd
Campbell Pde at Hall St

Bondi Beach Pavilion pop-up COVID-19 assessment clinic

Active 6am-10pm daily

Camperdown

Royal Prince Alfred Hospital

Active 24/7

Campsie

Canterbury Rd at Thorncraft Parade / Charlotte St

Active 24/7

Caringbah

Active 24/7

Coffs Harbour

Pacific Highway at Isles Dr

Active 24/7

Darlinghurst

Active 24/7

Frenchs Forest

Frenchs Forest Rd West at Glady Ave
Warringah Rd at Hillmer St

Northern Beaches Hospital

Active 24/7

Windsor

Hawkesbury Hospital Mobile COVID-19 assessment clinic van

Active 6am-10pm daily

Kingswood

Active 24/7

Kogarah

Active 24/7

Liverpool

Active 24/7

Randwick

Sydney Children's Hospital
Prince of Wales Hospital

Active 24/7

Redfern

Redfern Health Centre COVID-19 assessment clinic

Active 6am-10pm daily

St Leonards

Royal North Shore Hospital

Active 24/7

Westmead

The Children's Hospital at Westmead
Westmead Hospital

Active 24/7
Wollongong

Crown St at Darling/Osborne St

Crown St at Staff St

Crown St at New Dapto Rd

Active 24/7
More information