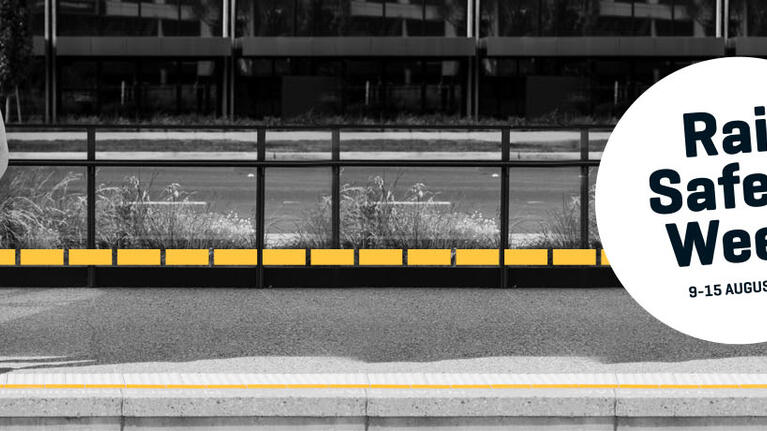 Rail Safety Week is an annual community awareness week, headed by the Tracksafe foundation, held in Australia and New Zealand, designed to engage the community in safe rail practices.
This year marks the 16th consecutive Rail Safety Week, and Transport for NSW are working with rail operators across the cluster to deliver a consolidated approach to rail safety messaging.
Rail Safety Week 2021 features a new campaign featuring TrackSAFE's Rail Safety Ambassador, Vanessa Low, who shares her experience as a rail accident survivor by encouraging the community to 'STAND BACK. LOOK UP. STAY RAIL SAFE'.
Continuing customer safety relies on those interacting with the rail environment, both pedestrians and commuters, to play an active role in rail safety, in particular by remaining aware of their surroundings.
Rail Safety Week starts on Monday 9 August and runs through to Sunday 15 August. Sydney Trains, NSW TrainLink, Sydney Metro and Sydney Light Rail are participating.
This year, Rail Safety Week reinforces actions required to stay safe around rail.
STAND BACK. LOOK UP. STAY RAIL SAFE.
Stay alert and don't be distracted by your mobile phone

Do not rush- arrive at your station a few minutes earlier than your timetabled service to allow sufficient time to board your metro, train or light rail service

When waiting on the platform, stand back from the track behind the yellow line and wait until the train/ tram has come to a complete stop

Mind the gap when getting on and off the train/ tram

Do not trespass on the train tracks, it is illegal and taking shortcuts can be fatal

Obey the safety signs at every railway crossing and cross at marked crossings only.

Stay on the path. Listen and look in both directions for approaching trains.

If the red lights are flashing or the gate is closed, a train is coming so keep clear of the tracks
 Find out more about safety and security on public transport.