Bus changes in Sydney's south-east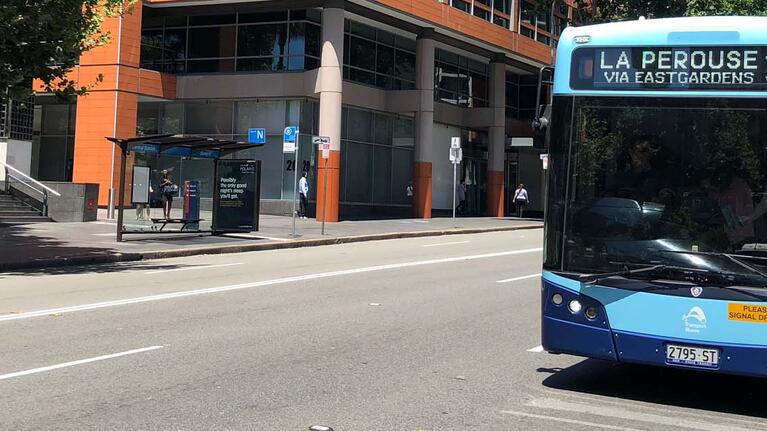 From Sunday 2 December, more frequent services, increased peak capacity, greater travel options and changes to some routes will be introduced in the Waterloo, Zetland and Botany areas.
Opal single bus tickets will no longer be sold on board. If you usually buy your tickets from the driver you will now need to get an Opal card so you are ready to travel.
Use the Trip Planner to plan your trip as your route may have changed.
Bus services and route changes from 2 December 2018
New routes 304, 307, 309X, 310X and 400N will be introduced.
Routes 310, L09, X09 and X10 will be withdrawn. Alternative services will instead be provided by routes 307, 309, 309X and 310X
Existing routes 301, 302, 303, 309, 328 and 391 will change.
Minor timetable changes will be introduced to routes 343, 357 and 400.
Route

Changes

301 - Eastgardens to Redfern via Mascot and Zetland

302 - Eastgardens to Redfern via Kensington

Routes will no longer run to or from the CBD, but instead will terminate at Redfern Station If you are travelling to or from the city you will now need to change to other bus or rail services to continue yourjourney
If you are travelling from Zetland and Waterloo you will now have direct access to the Sydney Trains network at Redfern Station.
Routes 302 and 303 will provide a new link between UNSW and Redfern Station.
If you are currently using routes 301, 302 or 303 between Waterloo, Surry Hills and the City you can use new route 304

New route 304 will run between Rosebery and Circular Quay via Zetland, Waterloo and Surry Hills providing a frequent service 7 days a week.
This new route will replace parts of routes 301, 302 and 303 between Waterloo, Surry Hills and the City
Services will run via Gadigal Avenue and East Village Shopping Centre, providing new travel options in this area for the first time

New route 307 will run between Port Botany and Mascot Station via Matraville, Eastgardens, Pagewood, East Botany, Botany and Mascot shops
Service frequency will be every 30 minutes during the day, 7 days a week, with services every 20 minutes during weekday peak and every 30-60 minutes during evenings
New route 307 will replace parts of routes 309, 310 and 391 
Provides connections to buses at Eastgardens, Botany and Mascot, and trains at Mascot Station
Services will run via Denison Street, Banksmeadow for the first time

Route 309 will be changed to run as a frequent service between Banksmeadow and Railway Square via Botany Road.
Service frequency will be every 12 minutes during the day, 7 days a week, with services around every 10 minutes weekday peak times, every 15 minutes during evenings and every 30 minutes late at night
If you were previously using route 309 between Port Botany, Matraville and Banksmeadow you can use new route 307 or 309X

New route 309X will run between Railway Square and Port Botany via Redfern, Green Square Station and Botany Road and replace the existing route L09 service.
Route 309X will stop at Railway Square, Redfern station and Green Square station then operate all-stops to and from Port Botany.
Services will operate from Railway Square to Port Botany during the morning peak and from Port Botany to Railway Square during the afternoon peak up to every 10 minutes.

New route 310X will run between Banksmeadow and Railway Square via East Botany, Botany, Mascot and Green Square Station
Route 310X will stop at all stops between Banksmeadow and Green Square Station, then Central Station and Railway Square
Provides express service from Banksmeadow to Railway Square via East Botany, Botany and Mascot during peak times
Combines parts of existing routes 309, 310, X09 and X10
Services will run from Banksmeadow to Railway Square during the morning peak and from Railway Square to Banksmeadow during the afternoon peak, up to every 10 minutes

Route withdrawn
Alternative services provided by route 307 between Westfield Eastgardens and Mascot Shops, and route 309 between Botany Shops and Railway Square
Alternative services during weekday peak periods from the Stephen Road, Swinbourne Street, William Street and Banksia Street area will continue to run to and from Railway Square via new route 310X

Route withdrawn
Alternative services provided by route 309X

X09 - PrePay Only - Banksmeadow to Central Railway Square (Express Service)

Route withdrawn
Alternative services provided by routes 309 and 310X

X10 - PrePay Only - Eastgardens to Central Railway Square (Express Service)

Route withdrawn
Alternative services provided by routes 307 and 310X

328 - Bondi Junction to Darling Point via Edgecliff (Loop Service)

Route 328 will change
Off-peak trips on weekdays will run via Double Bay Wharf and Double Bay shops, improving access between Double Bay and Edgecliff or Darling Point

Timetable changes and additional services between Rosebery and the City every day
Increased weekday services during morning and afternoon peak times
Additional weekend evening services

Minor timetable adjustments will be introduced on route 357 across the week, with no changes to service frequencies or operating hours

The route will be changed to start/finish at La Perouse or Matraville instead of Port Botany
New route 307 will service Port Botany 7 days a week, with connections to other buses at Eastgardens
Increased frequency of services to and from La Perouse, from 60 minutes to 30 minutes, 7 days a week

400 - Bondi Junction to Sydney Airport via Eastgardens

Existing route 400 trips currently running between approximately 12am and 4.30am will be renumbered to 400N and will run as an all-stops service between Eastgardens and Bondi Junction
Minor timetable adjustments will be introduced on route 400, with no changes to service frequencies