Go west to the Broken Heel Festival this September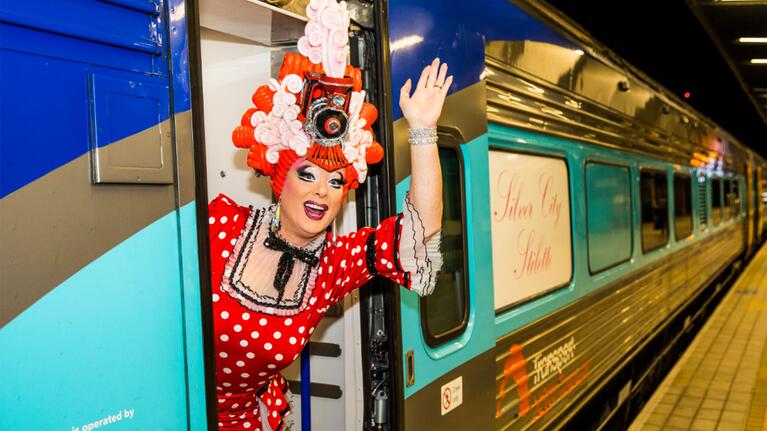 Photo credit: Destination NSW
Broken Heel returns to the outback, bringing you headline performers and entertainers from every corner of Australia's diverse community.
The Broken Heel festival is a fabulous three day event in Broken Hill, attracting upwards of 6,500 visitors, which celebrates the theatrical anniversary of the movie, 'Priscilla Queen of the Desert'. From 13–15 September, you can enjoy non-stop comedy, cabaret, live music and more paying homage to the iconic cult movie and stage musical.
Shake your groove thing and get there in style on board the dedicated NSW TrainLink 'Silver City Stiletto' train service on Thursday 12 September from Central Station, Sydney to Broken Hill.
Departing early morning, the journey will take around 13 hours and stops at Strathfield, Parramatta, Katoomba, Lithgow, Bathurst, Orange and Parkes on the way to Broken Hill.
On board the Silver City Stiletto, you will enjoy music and entertainment. Plus, when you travel with NSW TrainLink you will also receive discounted entry to the festival.
Book your return journey from Broken Hill to Central Station on board the NSW TrainLink scheduled service Tuesday 17 September 2019. The train departs Broken Hill at 6.50am CST and arrives at Central Station by 9.35pm EST.
Tickets are now on sale! Book your seat on the Silver City Stiletto.
Tickets include:
One way journey from Sydney (Central) to Broken Hill
Departure event at Central Station
Onboard entertainment from Maude Boate, Kita Mean and Anita Wiglit
Exclusive service, dedicated to Broken Heel fans
Discount code to save $50 on your three day Broken Heel Festival ticket.
After you have booked your seat on the Silver City Stiletto train service a discount code will be emailed to you to purchase your discounted three day festival ticket on the Broken Heel Festival website.
To find out more about what's on, visit the Broken Heel Festival website.
Travelling on board the Silver City Stiletto to the Broken Heel Festival? Don't forget to share your photos and tag #silvercitystiletto #nswtrainlink @transportfornsw